Pull ups are a sure-fire way to build a huge back and can really build that V-shaped upper body taper. So knowing that, you want a pull-up bar, but you're not sure which one? Well you're in the right place!
A wall mounted pull up bar is a great way to get your chin and pull ups in without taking up valuable floor space. You can also hang rings for ring work or dips to make them even more versatile.
Note: If you've landed here you are clearly an enthusiast and will already be well versed in the pitfalls of door mounted pull up bars which are too compromised for our uses. We won't look at them here.
Let's run through a few things to look for when buying.
At a glance…
The best wall mounted pull-up bars are:
Bulldog P60 – all round winner; 60cm clearance from the wall; Looks awesome
Bulldog P90 – huge 90cm clearance from the wall; More expensive than the P60
Mirafit Multigrip – ladder style bar provides variety; Quality falls short of the Bulldog commercial options
The best wall-mounted pull-up bars:
Bulldog Wall Mounted Pull Up Bar – P60
Best for: Best all round balance of quality, function and price
Bulldog are in a class of their own with their range of pull up bars. The stand out features you need to know about are:
104cm width allowing plenty of space for wide grip work
63cm clearance from your wall – enough space for bodyweight work, kipping pull-ups, etc.
Indoor or outdoor use
Includes wall fixings
The design is fantastic, I like the chunky brackets with separate chin bar finish. Being able to mount this outside is a huge plus, albeit one I can't take advantage of at my current house.
The Bulldog P60 is the best wall mounted pull up bar on the market in the UK today. It offer the best balance of utility and cost.
Bulldog Wall Mounted Pull Up Bar – P90
Best for: Those who want the best. No compromises.
The P90 is a bigger and badder version of the P60 line above. The P90 is the superior product, but for me the additional 30cm of clearance doesn't outweigh the additional £60-ish of cost.
The construction is a little different from the P60 as the brackets are larger and the chin bar is a modular bolt in model. This means you can 'daisy chain' the P90 where several are bolted together in sequence. This is not something many (or any) home gym owners would actually do, so in practice this doesn't add anything over the P60.
In addition to the stats for the P60 above, the P90 offers:
92.5cm clearance from your wall – maximum space for kipping, leg raises, punch bag work etc.
50mm x 25mm box section steel construction, similar to power racks and other heavy duty gym equipment
The downside of the P90 is that the price reflects it being a premium product. Check out the runner up P90 bar right now on Bulldog's website.
Mirafit Heavy Duty Multi Grip Wall Mounted Pull Up Bar
Best for: Those wanting a ladder style bar grip
Moving down a notch in quality we have a range of options available through mainstream websites such as Amazon. The pick of the bunch is the Mirafit which offers a ladder style grip which is unique over the Bulldog's above.
The downside is a lack of flexibility as the ladder bar stops you moving TRX ropes or heavy bags around as you see fit on the straight bar, and the ladder design gets in the way if you are trying to do regular pull ups as the bar is riddled with additional handles.
Check out the Mirafit on Amazon now (ad).
Note the fixings supplied by Mirafit are not up to spec, so please budget for an additional set of fixings.
What to look for when buying a wall-mounted pull-up bar
General design features
Given most of here are primarily interested in strength, CrossFit and powerlifting type work, for our purposes we will be focusing on quality and ensuring there is a strong supporting structure.
Grip options
What do you want to use your pull up bar for? This will influence the style of bar you go for.
For 90%+ of users a simple straight bar is ideal. It offers a complete range of grip widths, it can be knurled (or not) to your preference and you can hang bands, chains or rings from anywhere on the length of the bar. This is the kind of product you will use if you are training CrossFit style and you will see these in all the videos as well as in the CrossFit games themselves.
That said, there are a few tweaks to grip design you might be interested in that can add some novelty to your workouts:
Angled ends – if you go ultra wide grip regularly you may find a bar with angled ends more ergonomic.
Neutral grip work – a bar with additional handles or a 'ladder' design allows you to do neutral grip work (palms facing each other)
Globe grips – some chin bars have additional lumps and bumps to make things even harder. Globe grips are on way of doing this!
While these options may be nice to have, in reality 99% of your training will be traditional chin or pull ups on the straight portion of the bar so I wouldn't buy an inferior quality product for a novel grip design.
I can speak from personal experience – I had a ladder style pull up bar on a previous rack and moved to straight bar designs subsequently. I've not missed it.
Mounting and fitting options
One of the few choices we have is between wall mounting and ceiling mounting our chin bar. This will be dictated by your space and gym set up, and functionally they are largely identical.
If you are genuinely stuck between a roof and a wall mounting bar then I would go with the ceiling version as you have freedom to place far away from a wall, and the design is more simplistic with the downside being it is harder to securely install.
When it comes to installation I have some bad news… There will be some drilling involved. The good news is that it's fairly straight forward. You will need to find the joists or studs to bolt the pull-up bar in to, or if going straight in to brick you will need to drill out the holes and then secure in place with a thunderbolt or similar fitting. Our recommended bars above come with the right wall fixings so all you need to do is secure them in place.
Make sure wherever you mount the bar that there is sufficient space around it to actually do your exercises!
Indoor and outdoor use
If you pick a good quality product you will have the option of wall mounting it outside. This is great (even here in the UK…!) as it adds some variation to your training environment – sometimes it is nice to train out with your own garage!
Of course not all bars can be used outdoors and you may not even have space for one outside.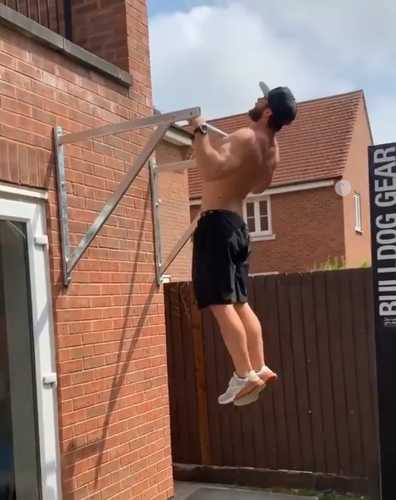 Unfortunately for me I don't have a great space for one outside my house – given the design the front & rear don't have a flat mounting surface that I can use and the sides are too shaded to really make it any more fun than just using my power rack inside.
Hey, if I end up moving then who knows 🙂
How high should you mount the pull-up bar?
Remember to install your pullup bar with enough clearance that you don't headbut the roof! Roughly 50cm would be sufficient for most regular chinning and pull-up activity, but you will need more if you intend to do complex callisthenics or muscle-ups.
Generally the more space above the better, but we can't control that in a typical garage gym environment unfortunately.
I have my bar mounted so that I can stand tall and comfortably grab the bar. I like to be able to keep my feet on the ground while setting my hands as I often do weighted chin-ups where I need to be more careful setting up. When doing bodyweight only chins I prefer the bar to be about 6" higher requiring a little 'hop' to grab hold.
So as a guide start with the bar at a height you can reach when fully outstretched, and raise it potentially up to 6" if you prefer a proper free hang.
Use for hanging heavy bags
If you like training combat sports you may have a heavy punch bag. Many wall mounted chin bars will allow you to hang a heavy bag for some sparring work if there is a straight bar to hang it from.
Obviously the distance from the wall comes in to play here, but it's great option to add some variety in to your space.
Of course if you don't want to hang a bag from your bar then you can check out my guide to free standing heavy bags for a bit more detail on this one.
Works with your TRX suspension training straps
Suspension training has rocketed in popularity across almost every facet of training from strength to yoga. The straps can be hung from a mounted pull up bar (or from a half rack pull up bar) to allow you to use a suspension trainer at home.
TRX or equivalent kit will let you do all sorts of suspended bodyweight movements, work on co-ordination and body control, or simply stretch out as a bit of rehab / prehab work.
Personally I use the suspension ropes for stretching out my upper body muscles – mainly chest and back. I find weeks of strength training can lead to tightness so some controlled, unweighted movements on the TRX help my mobility and recovery.
How to wall mount a chin-up bar
Fitting one of these to your wall is quite straight forward once you decide where you are mounting it.
Once you've found your dream chin bar you will need to make sure you have the right wall fixtures – eBay is always a good source for bolts etc, but you will note our top picks from Bulldog come with fittings which is even better. Each bar will have a spec of fitting it needs for example a 1cm bolt, an M10 fitting etc.
Once you know the size and what surface you are mounting to you are good to install – my garage gym has plain, painted concrete block walls so I drill a small pilot hole with a masonry drill bit before boring it out to roughly 8mm (assuming it's a 10mm fitting.) After this it's quite straight forward to use a hex head thunderbolt fitting to bolt straight in to the wall.
I've used this approach for quite a few things including a TV and even an external gate (!) and it has always been reliable and strong.
Before you install your own bar be sure to research your wall type and the best fitting. Wood, concrete and brick all have different fitting requirements.
Free standing vs wall mounted pull-up bar
Free standing chin and pull up stations are readily available – but come with one main downside: value for SPACE.
Yep – not value for money, but value for each square foot in your gym.
A stand alone pull up station takes up a similar amount of space to a full or even half squat rack – but offers so much less benefit.
So for this reason I can't recommend a free standing pull-up station as it's just a waste of space. If you can't wall mount your pull up bar, simply save and invest in a half rack with a pullup bar built in. It will be stronger, more useful for training and will be worth more if you want to sell it later.
Is a pull-up bar worth it?
I would answer an emphatic YES.
Most training styles can utilise a pullup bar from callisthenics and bodyweight only trainees to powerlifters looking to maintain shoulder mobility and health with some chin negatives. We also touched on the options to hang a heavy punch bag for martial art or combat sports enthusiasts and the same can be done with a TRX trainer for those doing general sports training or mobility drills.
Factor in the flexibility offered by the pull bar being up high and out fo the way with NO footprint to worry about and the option to mount inside or out, and it really is one of the most versatile pieces available for a home gym.
Pull and chin movements (weighted or unweighted) are a massive exercise for those of us interested in upper body aesthetics. They build the lats, shoulders and arms really nicely. A strong, stable and reliable pull up bar is an excellent partner for doing these regularly.
Conclusion
By now you will realise I am a HUGE fan of a pullup bar for a home gym. It offers massive variety for training covering all bases from yoga to powerlifting. If you don't have room for (or simply don't want) a squat rack then a wall mounted chin up bar is a great piece to add.
Why wall mounted in particular? Well it's incredibly space efficient and given the simple design they are affordable with full commercial pieces available for a little over £100.
Rounding off, I've named the Bulldog Wall Mounted Pull Up Bar P60 as the best overall wall mounted pull-up bar, with the P90 in a close second losing out only due to the increased cost.