The Bulldog Gear Hex Dumbbells 2.0 are the premium line of dumbbells offered by Bulldog. While 'weight is weight' and cheap dumbbells can build as much muscle as expensive ones, the 2.0's offer a really nice upgrade over the basic metal handled alternatives for a modest additional outlay.
Below I will run through the specification and various design features of these dumbbells so you can decide if these are the right dumbbells for you to buy (hint: you won't be disappointed! 🙂 )
At a glance…
Premium dumbbell range with full rubber coating – including on the handle
Thicker handle addresses main criticism of cheaper hex dumbbells
Design and finish is of high quality – coloured detailed look great
Cost is higher than entry level alternatives
Best bits:
Thicker handle than entry level alternatives feels nicer
Rubber coated handle offers superior grip
Design is excellent – use of Bulldog logo and coloured details make these stand out from generic hex dumbbells
Smaller overall size vs standard hex dumbbells
Considerations:
Priced slightly higher than entry level alternatives
1 year warranty: could be longer
Why you can trust me…
Peckmeout is a labour of love started way back in 2013 and built around a hobby I hold dear – home fitness and gyms! In the intervening years I've worked out in my home gym almost exclusively – so I have spent in to the THOUSANDS of hours with some of this equipment.
To provide a useful review I have integrated the 2.0 hex dumbbells in to my workouts for a number of weeks to ensure I've got a good grasp of the pros and cons of using these over the competition (for example the Bulldog Gear hex 1.0 & HyGYM dumbbells or adjustable offerings from Ironmaster.)
While this might seem like overkill I hope it's useful for you guys out there, and it's sure been fun 🙂
Are the Bulldog Gear Hex Dumbbells 2.0 worth it?
Yes – the Bulldog 2.0 hex dumbbells are an excellent premium dumbbell for home or commercial gym use. While they are more expensive than entry level options they ARE nicer to use.
The good news is, as all pairs are available to buy individually, you can spread the cost out and build a complete set of dumbbells up over time.
Bulldog 2.0 Dumbbell Specification
Weight range: 2.5kg – 50kg pairs (available in 2.5kg increments)
Handle design: Slightly tapered handle coated in rubber
Contruction: Heads friction welded to handle
Warranty: 1 year
What is the buying experience like?
Bulldog Gear list all the available weights in a drop down list on their website. All weights are available to buy as pairs so you can build your set up over time to spread the cost, or to adapt to changes to your training (or strength gains!)
Hex vs adjustable?
Overall I think fixed dumbbells tend to suit bodybuilding and CrossFit training more for this ability to quickly drop or super set at different weights without rest.
I own various fixed hex dumbbells as well as adjustable sets and can see the benefit of both types. Adjustable sets tend to be more cost effective for very heavy work, but fixed dumbbells win pretty much every time for convenience and assistance work.
Price
The Bulldog Gear 2.0 hex dumbbells are 25% – 30% more expensive than the entry level 1.0 range. This reflects their premium positioning in the range.
For the extra money you get a smaller dumbbells with the hex heads being notably thinner than the 1.0's, a complete rubber finish INCLUDING THE HANDLE and a coloured Bulldog-branded pattern on the heads.
So is the extra cost worth it? If you have the budget then I would say YES as these are simply nicer to use than the metal handled 1.0's. Will they deliver superior gains? No, BUT it's always motivating to train with the best kit!
With that said, you won't be disappointed with either the entry level or 2.0 dumbbells as both function largely the same, but the 2.0's are a bit nicer everywhere so if you have the money available I would spend the extra personally.
Delivery & unboxing
Each dumbbell was individually bagged and then wrapped in a reinforced cardboard box. Heavier weights were boxed individually with lighter ones paired up in each box. These boxes were stacked on a wooden pallet which was wrapped to keep everything in place.
Actual kerbside delivery was handled by a local logistics company so your experience may be slightly different, but for me it was seamless. The driver gave me a quick phone call prior to arrival then appeared with a curtain sided lorry complete with tail lift and pallet truck to get the package right up by my front door which was ideal.
Overall delivery cost can be quite pricey due to the sheer weight of the dumbbells but this will heavily depend on how many pairs you order and where you live.
I managed to rationalise putting through a relatively large order containing a mix of dumbbells as well as a few other items to spread the delivery cost out over a number of products (that was my excuse to the other half, at least 🙂 )
So there is my top advice – order MORE to spread the delivery cost out!
Build and design: Reviewed & compared
Now for the juicy bit – lets dig in to the detail and really put these 2.0 dumbbells through heir paces – on with the review!
Rubber coated handles
My main complaint on the basic 1.0 and HyGYM alternatives is that the tapered handles felt a little thin on the lighter weights.
That issue is completely resolved in the 2.0's which have a far thicker handle.
As you can see from the pictures the WHOLE dumbbell is coated in rubber not just the hex heads – this means the handle itself has the rubber finish all over it. It's finished with a quasi-knurl pattern and feels really nice to use. It is a far bigger difference than I was expecting to be honest.
The rubber makes for a really grippy surface with no rotation in the hand. It also contributes to the thicker handle as it layered on over the metal. If you get a little sweaty in your workouts the rubber really works in your favour as the dumbbells feel awesome even at the end of a gruelling workout.
Overall the rubber handle is excellent and I was really blown away by how much more premium and just 'nice' it feels when lifting. The grip offered and appearance really make this a top class dumbbell.
Hex heads friction welded
Bulldog advertise that their dumbbells are friction welded – this is important to consider when buying.
Friction welding is a process that uses the heat from rubbing two materials together to ultimately bind them to on another. It's a super-strong way of bonding rubber and metal, basically.
This is important for dumbbells in particular as repeated dropping and general use in a gym can knock the heads loose or even knock them off the handle all together. Friction welding vastly reduces the chance of this happening to YOU.
While I don't throw my weights around deliberately I don't go out of my way to be gentle with them either so having the best construction is valuable to me.
Rubber head quality
The rubber heads are outstanding on the 2.0's. The finish is smooth virgin rubber with the Bulldog Gear logo and the weight carved in to the ends making identifying the dumbbells on the floor or in a stack super easy. The use of white rubber for these bits really adds to the dumbbell and further contributes to their premium viable.
As an extra nice touch there is a splash of colour with a ring of 'Bulldog blue' around the head of the dumbbell which ties the design together really nicely.
Note also that the 2.0's have physically smaller heads than the budget alternatives which makes them easier to handle particularly at heavier weights.
Overall build quality has been excellent with no issues to report.
1 year warranty
Bulldog sell these dumbbells with a 1 year warranty. While I have absolutely no issues with the product or any reason to doubt Bulldog would support their customer base (in fact their reviews show that they have replaced units promptly in the past) I do think a longer warranty would be beneficial for the customers peace of mind.
I know it would have made it a little easier for me to persuade myself to order these over the competition if there was a longer – or even lifetime – warranty.
This is particularly relevant on the 2.0 dumbbell line which is their premium offering.
Other customer reviews
At the time of writing there are 80+ reviews on the bulldog website with an overall rating of 5/5 stars. The majority of these are 100% positive.
Having dug back through all the reviews some users report slow delivery during the pandemic. My delivery experience is documented above and was seamless as the products were in stock. Based on these reviews if the dumbbells you are ordering are on preorder or out of stock then it is possible that there may be some delays based on other customer experiences.
hadn't realised from the description that the entire DB is covered in a thin layer of rubber, including the handles. Having now tried this out with a WOD, I'm impressed. No more chafing around the thumb from knurling on the handles during high rep changeover of hands (e.g: alternating DB snatch). Very comfortable.

Other than that, I'd say they are marginally bigger than I was expecting, but not in a bad way. And time will tell on their durability.

Purchaser "Jonathan F.", sourced from the Bulldog website
Let's just say there are Dumbbells and then there are Hex Dumbells. The coating that have put on them make them much easier to use. They look great and are very robust. 100% would recommend. Currently saving up to purchase another pair.

Purchaser "Chris J.", sourced from the Bulldog website
Really impressed with these dumbbells. The rubber handles grip well and didn't cost that much more than standard metal ones. Look good too which helps.

Purchaser "Owen L.", sourced from the Bulldog website
Alternatives to the Bulldog Gear 2.0 Dumbbells
While the 2.0 dumbbells are my favourite that we have tested so far there are a couple of alternatives I'm also a fan of.
Both of these are budget alternatives and not direct competitors for the Bulldog 2.0 dumbbells. If you have the money available I think the 2.0's are worth the outlay over the entry level options below, but if you would rather use the cash for something else both of these are good alternatives:
Bulldog Gear 2.0 vs HyGYM Hex Dumbbells
HyGYM offer a set of 6x pairs of dumbbells complete with a basic A-frame stand. The design is the typical rubber coated hex heads with metal handle and feels less luxurious in use than the Bulldog 2.0's with their thicker, rubber coated handle.
That said HyGYM dumbbells are reasonably priced and come with the stand so if these factors are important to you check them out!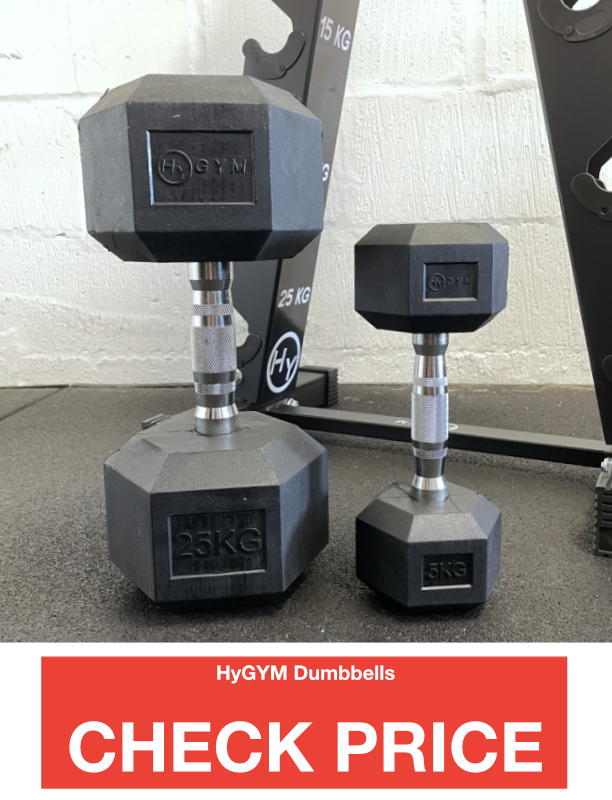 Bulldog Gear 2.0 vs Bulldog Gear 1.0 Dumbbells
Similar to the HyGYM dumbbells the Bulldog Gear 1.0 are a traditional metal handle & rubber coated hex head design. Again this design is not as fun to use as the premium 2.0 line of dumbbells.
The 1.0's offer the cheapest way to build a set of dumbbells albeit without a stand.
Conclusion
The Bulldog Gear Dumbbells 2.0 are the best fixed dumbbells in the UK. The all-rubber finish is a significant upgrade over traditional chrome handled hex dumbbells and – in my opinion – is worth the extra outlay.
That said if you are working to a tight budget or simply want to save your money for something else (even more gym equipment!) then the entry level competitors shared above offer a 'best bang for buck' approach.
Best bits:
Thicker handle than entry level alternatives feels nicer
Rubber coated handle offers superior grip
Design is excellent – use of Bulldog logo and coloured details make these stand out from generic hex dumbbells
Smaller overall size vs standard hex dumbbells
Considerations:
Priced slightly higher than entry level alternatives
1 year warranty: could be longer