If you're involved in combat sports (or maybe you just like to let off some steam after a tough day in the office!) you will have looked at adding a punching bag to your home gym.
As is becoming all too common the internet is unfortunately awash with poor quality products at jacked up prices – so today we're taking a deep dive to find the best free standing punching bags available to suit all budgets.
Let's jump right in. And don't worry – we won't pull any punches…
At a glance…
The Century BOB is the best punch bag for martial art trainees
Century's Fight Simulator is the best for versatility and grappling practice
The Wavemaster XXL is the best for traditional bag work
The various other competitors are generally similar to one of these bag styles but have slightly different features and price points
Free standing bags are better than hanging bags as they do not require any building works to install
10 most awesome free standing punching bags
1. Century Bob XL
Best for: Boxers, MMA fighters or those looking for the ultimate free standing bag
This is the bag that triggered my interest in punch bags. My neighbour had one of these in his gym and it always seemed like an AWESOME addition for a bit of power and cardio training.
Given the obvious similarity to a person it's ideal for honing your jab and kick technique and improving accuracy. This bag is more expensive than many other options, but with that comes a better overall experience.
Bob looks like a cool guy – but unfortunately I have to break it to you that BOB is actually an acronym for 'body opponent bag'. Constructed with a thick vinyl skin it is the best replication of hand to hand combat I've experienced from a punch bag. Under the skin there is copious amounts to high density foam to provide some bulk to the figure. The height can be adjusted to range from around 5' to 6'6.
In terms of ballast the base can be filled with water or sand and, when filled, tips the scales at around 120kg. This is great as we want a stable bag when we're practicing. Mobility wise it is movable either with a small trolley, as a two man / woman lift or using the age old 'rolley poley' technique where you rock it from side to side to kip it into place.
Click here to check out the Century BOB on Amazon.
Ultimately I love this bag – it's what got me interested in boxing, I think it's the most lifelike product and it's an amazing addition to a garage gym.
2. Century Versys VS1 Fight Simulator
Best for: Combat sport trainees and those interested in takedowns or a generally more versatile bag
Let me get this out of the way now – this is a pretty expensive option. There – I said it!
The trade off? Well it is a really versatile option. At around 50kg, 15" diameter and with handles (!) it's one of the most moveable punch bags available – a very good thing if you need to store it out of the way, or if you want to practice grapples and throws.
At 50kg it undercuts the average male (around 70kg) but is still hefty enough to be a really good workout.
Sharing a similar design to the Wavemaster we will come to later, it's great for full body shots like knees, high and low kicks and everything in between.
Click here to check out the Century Versys VS1 Fight Simulator on Amazon.
So why don't I own this one? The downside for me is that the bag is so chuckable that I simply don't have the space for it to get knocked over in my garage gym. If you do – then this is a serious contender even at top dollar.
3. Century Wavemaster XXL
Best for: People who prefer a more traditional bag look & feel (but without the hassle of hanging one)
This bag is a beast and quite a dominating presence in the garage. It's about 5'10" tall and 18" across. When you see one it is a colossal piece and the quality is faultless. It's constructed with the familiar thick gym vinyl fabric and a high density foam inner.
It feels totally different to the Bob in use, but is more like a traditional punch bag (if that's your thing). I recommend wearing gloves for this one with the vinyl finish.
Click here to check out the Century Wavemaster 2XL on Amazon.
Similar to the Century Bob above, the base is fillable with sand or water. Once filled the bag is around 100kg so, again, is movable with some ingenuity.
4. Ringside Elite
Best for: Those who like the shape of the Wavemaster, but want something a little more aesthetic
In design terms the Ringside Elite is remarkably similar to the Wavemaster XXL reviewed above. It has the same traditional design brief of being a tall, cylindrical bag with a weighted base (again going to around 120kg once filled) only with a slightly thinner profile (15" diameter here, vs 18" for the Wavemaster XXL).
I find the overall design more aesthetically pleasing on the Ringside so it would be a contender for my money if I was keeping the bag in plain sight somewhere in my house.
5. Century Original Wavemaster
Best for: General or casual trainees looking for the traditional heavy bag feel, but with a preference for a free standing unit
The Original Wavemaster design has been around for years and it no doubt familiar to you. I love the bold colours and minimalist design – if I had to pick ONE bag to keep on show this would be it. While the Century logo is huge it's not a garish as the Everlast or Ringside design so I could live with it on show.
Construction of the bag is the usual great quality associated with Century with synthetic leather outer over high density foam inners.
As usual there is a base that can be filled with sand or water bringing total weight to around 110kg.
Click here to check out the Century Original Wavemaster on Amazon.
My one criticism of the Original Wavemaster is that the base design is quite clumsy. Given the minimalist bag design I would have liked to have seen a nicer base design or – as we see with Ringside – the option of a cover.
6. Everlast Powercore
Best for: Those not prepared to pay for the premium Century bags
Like many, my first taste of home gym equipment was a cheap Everlast bench and concrete filled weights. I look back on that time fondly as it's when I first got in to what has become a life-long hobby, but I think the rose tinted glasses are overly kind to what was actually quite a poor quality product from Everlast. Fortunately their range of bags is MUCH better than their generic gym equipment.
The Powercore's ace in the hand is that it undercuts the Century offerings price wise while still being a decent steer in terms of function.
It takes a different tact to the simpler Century Bob and Wavemaster bags in that is has a few bells and whistles including a shock absorbing collar to try and absorb impacts and mimic a 'live' bag when sparring.
Click here to check out the Everlast PowerCore on Amazon.
In practice this is a little disappointing in terms of function, while generating a bit of additional noise. Overall I prefer the Wavemaster for my uses, but I can see the appeal for those that prefer the live feel of the bag being under mechanical tension.
7. Dripex Free Standing Boxing Bag
Best for: Budget conscious buyers and those focused on traditional boxing technique
Almost unbelievably there is both an adjustable and a child version of this bag. I can only hope the child version is for children to get in to the sport, and not for people to practice punching them…
Anyway having two different sizes is a good thing as this model is not height adjustable, but the trade off is a fantastic price.
The design is quite creative for a budget punching bad with the usual weighted base complimented by suction cups on the underside. The downside is this makes it pretty much immobile, but in exchange it is rock solid and can handle even the biggest hitters. There is also optional shock absorbers which can help dampen noise and vibrations. Being removable it is handy to have the option of a different way to train.
The overall construction is good with a vinyl / synthetic material covering the usual foam core.
Click here to check out the Dripex Free Standing Boxing Bag on Amazon.
Overall it makes some of the competitors look a little pricey if you are happy to have your bag anchored in one spot.
8. Gallant 6ft Max Strike Punch Bag
Best for: Taller, budget conscious beginner not chasing maximum power
The Gallant free standing bag is of similar design to Original Wavemaster and some of the Everlast offerings with a weighted base under a traditional cylindrical bog.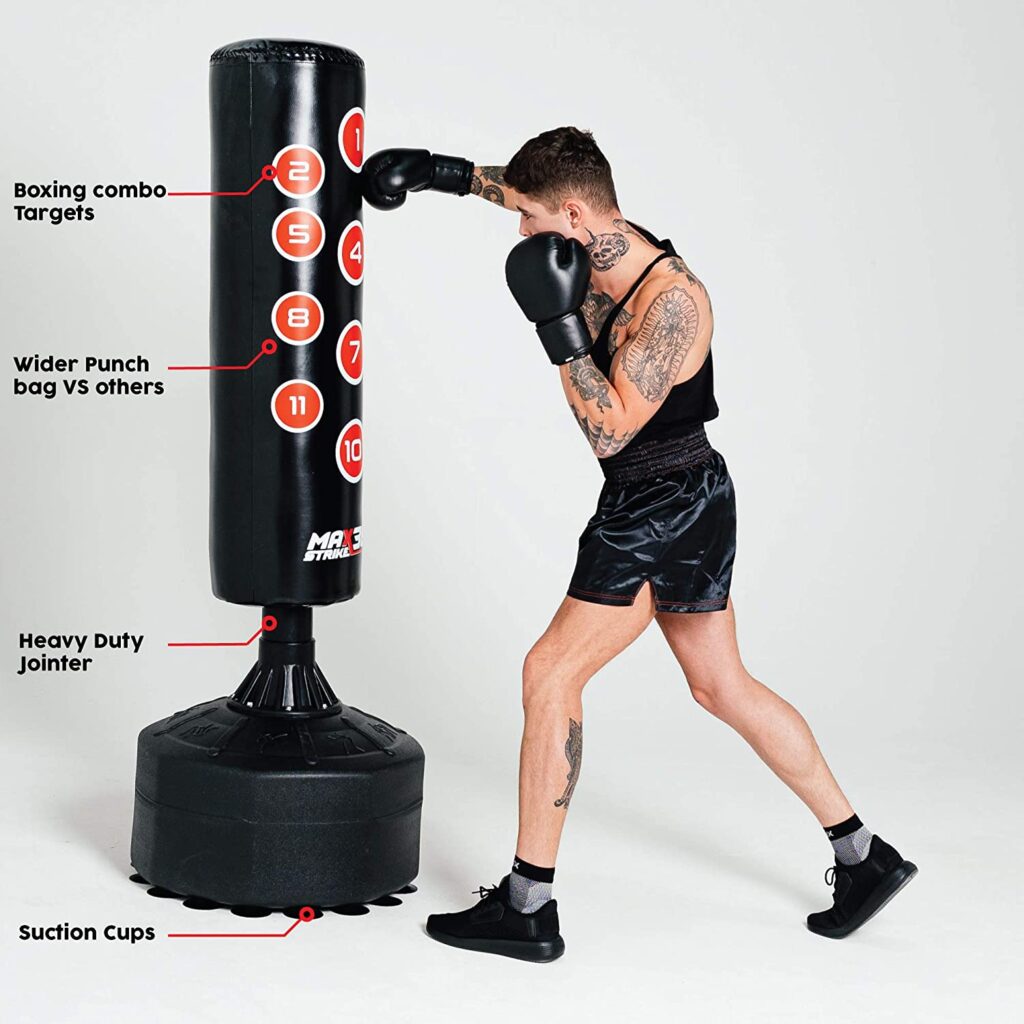 Despite the similar shape, what marks this out as unique – and thus cements its place on my list – is the numbered zones on the bag. When I was new to training with a punch bag I found it a little difficult to keep motivated, or even know what to do.
The numbered zones give those of us transitioning from other activities to bag work something to kick off with. We can 'program' a routine similar to how we would build a HIIT schedule using the zones – so 1, 1, 10, repeat etc. This makes it such an enjoyable bag to use for a casual trainee.
Click here to check out the Gallant 6ft Max Strike 360 on Amazon.
The downside is the quality is below that of the Century options, but it is offered at a lower price. I'm also not a fan of the MAX360 logo – but at least we can keep them turned the other way.
9. Max MMA Reflex Bag
Best for: Established fighters looking to work on a speed ball style bag
A very different option now. If you're interested in improving punching speed and reflexes then this is the bag for you.
Acting as a free standing speed ball the design is drastically different to the traditional cylindrical bag. This gives us maximum rebound speed and creates a really lively training experience.
Click here to check out the Max MMA Reflex Bag on Amazon.
The downside is lack of versatility – while not quite a one trick pony, it's not far off. One for those who are experienced and have a specific training need.
10. RDX Free Standing BOB Boxing Dummy
Best for: Those who don't want to spend the money on the Century Bob, but want a similar experience
RDX is a brand that surprises me – despite being a typical 'Amazon fitness' style brand the products I've used have all been OK. In fact I actually used one of their belts for a couple of years at the start of training career and it was great for a total beginner (ultimately the lack of a leather core meant it broke down – but that's for another review).
The RDX Bob (short for body opponent bag, remember?) is another fair product at a fair price. It offers a similar experience to the Century Bob but at a hugely reduced price.
Of course the overall quality isn't a patch on the Century, similar to comparing an RDX weightlifting belt to an SBD or something, but if you're a casual user, not looking to spend a lot, or just need a temporary home gym then this is a good place to start.
Click here to check out the RDX Free Standing BOB dummy on Amazon.
Oh, and it's brown. Not sure who signed that one off…
Free standing vs hanging heavy bags: Which for me?
So that is a top 10 list of the best free standing bags available – but is a stand alone punch bag even the right choice for YOU? I think so, but if you need me to convince you the read on…
The decision between free standing and hanging is very personal and principally driven by your own preference (if you've used one before you may like it better) and, perhaps most importantly, the space you have available in your garage / shed / gym / kitchen (maybe that last one is a joke… I hope!)
Hanging heavy bag: Pros and cons
Let's me throw this out there – hanging bags are great, but like everything in life they have a few cons to go with all the great 'pros'. Let's take a look:
Pros:
Hinged design – a hanging bad is hung from overhead (usually a beam, or similar) and the bag hangs down. This gives it freedom to swing back and fourth when hit – but crucially it always returns to be the centre. As it hangs down it cannot be knocked over.
Power absorption – per the above point about how the bag hangs down it means it pivots and turns about this central point – but always returns to neutral. All your power goes in to the backswing, and then it ultimately comes back to rest.
Cost – without being disrespectful to the manufacturers, a hanging punch bag is a fairly simple contraption and this means it is cheaper.
Cons:
Installation – unless you know what you are doing installation is not simple as you need to find a load bearing beam to bolt the bag to.
Space – the downside to the hinged design is that the bag swings around – you will want space all round the bag for you to spar, and the bag to swing. You will need to clear this space every time you want to use the bag in case it swings and hits something.
Stability – depending on your training style the swings from the bag can be undesirable (e.g. if doing rapid kicks). You would need a training partner or some kind of prop to stabilise.
Free standing bag: Pros and cons
Similar to hanging bags, their free standing equivalents have their fair share of good and bad bits. Let me do a quick rundown of what I think the key points to consider are:
Pros:
Simple to set up – once unpacked that is basically it. No drilling, hanging or mounting required.
Space – unlike the free standing equivalent free standing bags generally do not swing around nearly as much when being used
Mobility – unlike a hanging bag a free standing one can be stored anywhere and pulled out when needed.
Construction – in general free standing punch bags are softer
Styles – a hanging bag is almost always cylindrical. Free standing bags can be any manner of shape, size or weight. Fancy taking out some of that anger on a human shaped punch bag? No problem – there are a variety of these available (known as body opponent bags)
Low level kicks – being free standing some of the bags will allow you to hit at lower leg height whereas a hanging bag would not drop this far
Cons:
Stability – as these are floor hinged they are susceptible to toppling when being used. This can be mitigated by weighing them down properly with ballast in the bases per the instructions, or through design choices such as buying a spring loaded bag
Range – free standing bags are fairly new and therefore the range of suppliers is still modest compared to the almost limitless choice of free hanging bags available.
Cost – they are more expensive than the standard hanging heavy bag options
So which should I actually choose?
On balance I think a free standing bag is a better choice than a hanging bag for most home gyms for four core reasons:
Easy set up – no need for a builder at all, no drilling in to the wall or roof needed
Easy to store out of the way when not in use allowing you to use the space for other training needs
Can be moved outside for summer training (less sweat!)
Grappling and low kick options are very useful
That said if you are happy to get a builder or joiner in to install this and you have a dedicated space available then a large, heavy hanging bag would be a great permanent fixture to have.
What to look for in a free standing bag?
Convinced that a free standing unit is the better choice for a home gym (I hope so!)? Then the next step is to work out what features you would like.
Hanging bags are a little easier as – despite the huge range available – the design is fairly standard. Free standing bags by contrast are hugely varied in design and are a minefield when shopping.
The key things to remember when shopping:
STABILITY! We KNOW the weakness of a free standing equivalent is that it might tip or topple, so we MUST prioritise stability or plan for some kind of additional ballast.
Make sure our bag suits our training needs – there is no point getting a speed ball if we are training for sumo wrestling…
On this second point there are a few designs available that we can pick from. Go for the one that most suits your training.
Different types of free standing bags
Stand up punch & kick bags – these are great general purpose bags. Design wise they have a heavy base with the bag on top which can be punched / kicked to your hearts desire!
Free standing hybrid bags – these let you train as you would the stand up bags, but also throw in the ability to grapple and do ground based moves as well. Some need ballast added to the base as well.
Reflex bags – these are, as the name suggests, better at reflex and speed work. They move around and spring back from any impacts and are ideal for training your reactions and quick succession hits / combos.
Conclusion
Hopefully this has helped narrow down the almost limitless choices of punching bags out there for you to find something suitable. My advice would be to start with our "top 3" bags and simply work out what features you like and dislike of each.
Once you know the features that are important to you, it will shape what design of bag you want (BOB vs fight simulator vs traditional cylindrical design). From that point it is simply down to budget and availability.
My advice? If you have the money available then buying a Century product makes sense as they are an established brand in the market so any issues will be few and far between, and if there are any they will stand by their product. Being a big name in the industry they also hold their value comparatively well in the second hand market – so if you decide to move the bag on later the Century products will usually sell quicker and for more.