Most weights bench sets are simply not strong enough for proper strength training. The likes of Argos etc. will stock 'Everlast' or similar which have small maximum capacities of around 150kg. While this may sound like a lot, remember it includes your weight!
That means if you weigh 85kg (13stone) the maximum you would be able to safely bench press with a basic one would be 65kg. That's not a great deal to someone of that weight and through proper workout programs as a beginner you would expect to be doing high weight, low rep sets of up to your bodyweight (and beyond as your strength improves).
Let's take a look at a few of the more heavy duty options out there.
At a glance…
Weight capacity, bench height and adjustability will drive your choice of bench
There are a few great weight benches available in the UK
Having owned a few benches now I would recommend the Bulldog ZERO GAP bench if you can afford it
BodyCraft and Ironmaster make compelling alternatives
How to pick a bench
I bought a pretty awesome one for my home gym when I first set it up, so I will guide you through my selection process:
Maximum weight capacity
Height from the ground
Adjustability
Online reviews
Sounds pretty simple, doesn't it? Well it can be a minefield out there! Even for someone into their gym gear (like me) it's so easy to find sub-par equipment which looks great in the (metaphorical) brochure.
Since my original purchase of the BodyCraft I have subsequently owned and used two other benches, so it's fair to say I've done my fair share of shopping for these!
Which one should you buy?
From hours of research when setting up, I ended up choosing between two highly recommended options – the BodyCraft F320 and the Ironmaster. Both of which are considered excellent by their users.
BodyCraft F320 review
This fantastic bit of kit has an intriguing feature – when adjusting it the seat pad moves backwards meaning your head stays right at the back of the unit at all incline/flat angles. This probably sounds rubbish, but it means when doing incline movements inside a power rack you can get yourself into position to rack/unrack the bar without the bench legs hitting your power rack legs.
This is a mega-feature if you have a free standing power rack with a rear cross member. Sadly (for BodyCraft) this nifty trick has been copied by loads of other manufacturers since then.
As part of the sliding mechanism the seat goes goes down very low which is useful for doing dumbbell exercises as you can easily pick up/drop the weights without straining your arms or shoulders. It ends up about 9″ off the ground which feels great.
When flat, the bench is one of the lowest adjustable benches on the market with a height of c.18″ making it ideal for shorter people as you can still get leg drive when on your back.
In terms of adjustability it goes from decline up to near vertical. One draw back is it does not quite go into a 90 degree vertical position.
Construction is OK for the price, the BodyCraft F320 is for home or light commercial use, so is ideal for most applications in your home gym. It is however made from 12 gauge steel which would be a tier below what we would like to see (11 gauge, being 3mm thick, is preferred). Per the manufacturer the F320 is rated tol withstand 800lbs on it (over 360kg), this should be plenty for most users.
I bought a F320 and used it for years, but ultimately I moved on to a sturdier, heavier duty bench. I found the decline option on the bench took something away from its stability and my confidence in it as a flat bench (where I did most of my work).
Ultimately I moved on to a commercial grade piece made by Legend (the 3103). This removed the decline option, but added better functionality as a flat bench with a proper brace. This was mega for my bench press as it added a ton of confidence. It is also around an inch shorter and in line with official spec height for a bench.
Ironmaster Super Bench review
This weights FID has a much sturdier construction than most others, capable of taking 1000lbs (over 450kg). It's made with a mix of 11 and 12 gauge steel.
At c.21″ the Ironmaster is very high when flat. Shorter users (like me) need to use a platform to get into a flat foot position in the horizontal setting. This is ultimately why I did not buy this bench.
If you can look past the height, the two main selling points for the Ironmaster are:
Very fast system to change incline/decline – using a foot pedal you can quickly change the incline setting of the bench in seconds. Very, very useful!
There are a massive amount of accessories available to add on. Your home gym could be based around a Ironmaster with the likes of hyperextension, dipping, leg curl, preacher, lat pulldown and pull up attachments all available.
And do you want to know the good news? Ironmaster have now FINALLY listened to all the feedback and made a "pro" version of the Super Bench (called the Ironmaster Super Bench Pro) which is MUCH lower at 17.2" off the ground.
If I was starting a home gym today I would be buying the Pro bench over the BodyCraft above.
Bulldog Gear Adjustable Bench 2.0 Incline / Decline review
So I've not used this bench yet – but as I mentioned above I sold off my BodyCraft F320 to replace it with a Legend bench. This cost quite a bit of money at the time as – in the UK – we obviously need to get Legend equipment shipped over from America.
So why would I go to all that hassle for a bench?
Well the Legend 3103 – at the time – offered something that was very hard to find in the UK:
Rock solid flat bench – the bench pad is structurally supported in the flat position
Commercial grade equipment
Extremely heavy duty, with built in wheels for moving it around
Pop-pin adjustment for rapid back angle changes
The downside of the Legend bench is the pad gap between the seat base and the backrest when the bench is flat. Nowadays there is actually a solution to this – we have a range of "zero gap" weight benches available (a trend set by the Rep Fitness AD-5000 in America, and copied by many others.)
So if I was buying a bench today what would I look at as a competitor to the Legend 3103? Well step this way Bulldog Gear (again!) with a UK based, zero-pad-gap FID weight bench with their 2.0 incline bench.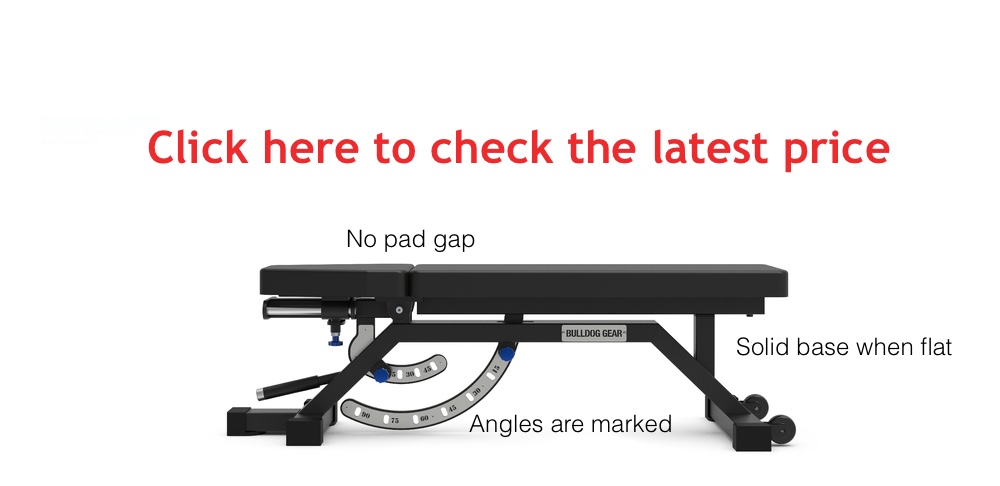 I would love to get my hands on one to try – what appeals to me is:
ZERO gap padding when flat
11 gauge / 3mm steel construction
Approximately 12" pad width out of the box (the Legend 3103 ships with 10" as standard, but can be customised)
Angles are labelled on the bench, the Legend has no markings
Cost is significantly below the Legend (ouch to my wallet here)
So if you can stretch to it, I would be looking to hand my money over to Bulldog for a last-a-lifetime weight bench that can do everything. Damn, it's so nice I'm tempted to put the Legend up for sale and add it to the garage…..
You can check out my full review right here – bought, tried, tested and REVIEWED in detail!
Conclusion
So over the years I have been through a few benches – and something tells me that might continue! If I was starting again now I would buy the Bulldog 2.0 bench as I love the zero pad gap design and 12" width. If I had a lower budget I would buy the Ironmaster Super Bench Pro.
What if that was a bit too much? Well I would either save up a while longer, or simply buy a flat bench for cheaper. I wouldn't recommend a cheaper adjustable weight bench as my experience suggests you will just want to sell it on later anyway.