So you have a gym… And you have a wall… So now you want a gym wall timer! Having a way of keeping track of your workout time is near essential to keep us focused and on track and a huge wall timer is certainly one way to keep track!
Here's all you need to know…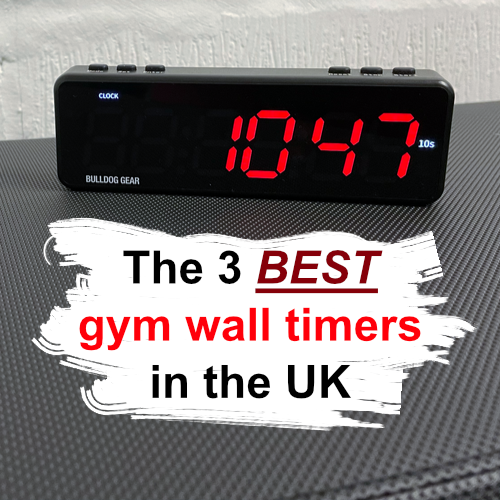 The best wall mounted timers in the UK are…
A lot of the timers on the market share a really similar appearance and feature set and therefore the devil is in the detail around how easy it is to program or how large a screen you want.
Here are TWO awesome options to start your search for the ultimate wall mounted timer:
Best value: Bulldog Gear Garage Gym Interval Timer
If you want a wall mounted timer then this is one of the BEST options out there.
A relative bargain, this timer is easy to wall mount and comes with a remote to make programming a breeze.
Coming in at 21.5cm long and 5.5cm high the timer screen is easily visible from across a garage (and quite a bit further than that too!) and doesn't protrude too far out from the wall in to our valuable gym space.
The main downside over other wall mounted equivalents in my opinion is the slightly thicker borders – the newer aesthetic on the smaller units (edge to edge screen) is more attractive, but in reality who is analysing their gym timers looks, other than sad bloggers online (a.k.a me!)….
If you want a well manufactured, easy to control timer that is wall mounted then this is one of (if not THE) best options out there.
Best overall: Bulldog Gear Interval Timer
Let's get this out of the way: this timer (at time of reviewing) is going for £225… That is 3.5x the price of the smaller timer above…
It is of course up to you if this is worth it for your training but be warned it is not a cheap item.
This timer edges out the interval timer above based PURELY on size. At 65cm x 20cm x 5cm this is wall mounted timer for people who firmly believe you need to "go big or go home!"
The base modes included are ideal for CrossFit or similar interval / density based training with fully customisable settings available as well as built in fight gone bad, count up / down etc.
Overall this timer stands out for two reasons – price (higher) and size (bigger). If you want a commercial spec and size timer and have the budget then this is worth a look.
Is a gym wall timer overkill?
Absolutely.
Maybe not what you expected to read – but PERSONALLY I think these wall timers are over the top for a home or garage gym. But why do I think this?
Price – wall mounted gym timers are expensive for what they offer
Power source – as most of these timers are mains powered you need a power socket near where they're mounted
Wall mounting itself – I'm pretty happy to drill in to my wall but I know many readers can't or won't do this
Size – while these wall clocks can justify their price by being HUGE, having something physically this big is unnecessary for most of us as a smaller, clear screen will convey the same information in a more space efficient manner
BUT there are alternatives – I use a magnetic timer every day and think it's a great device. At less than half the price it's also much easier to justify and get my moneys worth out of!
What can you use a gym timer for?
I use a timer for pretty much every workout. Regardless whether I am strength training, hitting a circuit or even just getting some cardio or GPP days in I will ALWAYS keep track of time.
Always have. Always will.
Doing this helps me a ton of different ways:
General timekeeping – I often workout at lunch time so keeping an eye on the duration helps me stick to around an hour. This helps me fit gym time around work meetings and a generally hectic family schedule
Rest periods – as an inherently lazy individual I naturally 'round up' my rest time. A clock doesn't lie and a timer is a cruel training partner!
Volume training techniques – ramping up in-session volume (basically increasing the number of reps done in the allocated time) can be done in a few ways heavily reliant on tracking time: density blocks, circuit training, EMOM, fight gone bad – these training methods ALL focus on working HARD in a predicated amount of TIME
Having a dedicated gym timer or clock is massively helpful for these things. Being able to keep your phone for other phone things (like changing music etc) without the screen turning off all the time is such a luxury after years of 'making do'.
What to look for in a digital gym clock
If you've got the need and the money to spare for a large, wall mounted clock for your garage (or commercial!) gym then there are a few things to look out for:
Programs and options
How do you want a clock to compliment your training? If you want to get in to CrossFit style workouts, HIIT sessions or simply want to keep your rest times honest when strength training then you need to make sure the gym clock you buy is right for your intended use.
A few of the modes commonly found and the uses I've found for them are:
Count up – I use this one for most strength training sessions. I simply start the timer when the workout kicks off and aim to get my session finished in around 60 – 70 minutes. Simple.
Count down – Handy for LISS cardio work, setting a target time (30 – 40 minutes in my case) and letting it count down keeps me honest and lets me focus on keeping my heart rate in my targeted zone
EMOM – Excellent for CrossFit-style training and recently advocated by Mat Fraser, EMOM (every minute on the minute) training is awesome at cutting rest down the minimum and pushing volume lifted in a session UP as a result
Custom – Depending on your goals and knowledge you will likely want to do your own interval and rest programming at some point. For example Barbell Medicine recommend a 20s on / 1:40 off which I often program in for GPP days.
There are LOADS more options out there, some more gimmicky than others, but if you have the RIGHT options that is all you will need – and is infinitely better than having MORE gimmicky options!
Remote control and connectivity
If going for a gym WALL timer you will need a way to control it from distance as hardware controls are far less practical when it's out fo reach on the wall.
Most come with remote controls similar to those used for standard TV's. These are functional and, in truth, a pretty good way to control the clock. It's another thing lying around the gym however!
Some of the newer clocks have Bluetooth connectivity and can be programmed from your phone. This has not been as widely adopted as I'd hope in the large gym wall timer market in the UK with very few offering this.
Size and screen
Despite having numerous brands out there the majority of gym wall timers share a similar design – basically a black rectangle with a notable plastic lip running around it with large red digits on the read out. Most will have some kind of branding or logo as well.
Crucially then the differentiator in design terms is the SIZE if the screen:
Large sized timer = 65cm x 20cm. This is ample for ANY space.
Medium sized timer = 22cm x 5cm; Easily visible in a large commercial setting.
Small sized timer = 15cm x 5cm; Visible from across the equivalent of a UK double garage
Work back from the size of your gym space, then consider the importance of the timer to you (if you use intervals exclusively you will want a more prominent timer!) and that will help you work out what size wall clock you need.
Sound
Most wall mounted clocks – given their size – pack a heck of a punch when it comes to noise!
Just make sure the one you select DOES have have a buzzer included and that it can be turned OFF for late night workouts.
Most decent gym timers will have these functions, but more generic wall clock-type products (i.e. non-gym focused items) may not.
Power source
Possibly my biggest gripe with wall mounted timers is that most of them are MAINS powered. This makes some sense in a large commercial setting where the wall clock would be very high and always on, but in a home gym I personally think it's a compromise.
Why? Most home gyms have a limited number of power sockets, trailing wires look rubbish and I like having the option to move the timer if I change the layout in my garage.
This means when I was shopping for a timer I was looking at battery or rechargeable timers exclusively. Unfortunately the wall timer market is quite old school therefore the range was surprisingly limited!
Of course you may be OK with wires or have a socket available in which case you have a TON of options available!
STOP: Check out this alternative too…
PERSONALLY I have always struggled to justify a wall timer. Costing a few hundred quid, needing to be wall mounted & plugged in – it is all a little much for my personal use case.
BUT I did pick up a pretty awesome alternative – a battery powered, magnetic gym timer… Right here in the UK.
Offering all the same modes as the larger alternatives at less than a third of the cost and not needing to be wall mounted it is well worth considering this UK gym timer.
Conclusion
Gym wall timers are a great finishing touch to any gym. If you use intervals in your training regularly they can be a complete GAME CHANGER. Just make sure you choose one in the right SIZE and within BUDGET and you will be delighted.
If you are looking for a gym wall timer in the UK you should consider the two wall mounted options from Bulldog Gear. They offer all the features you likely need, don't break the bank and are readily available.
Alternatively if you find the wall mounted options a bit awkward for your space or too expensive the magnetic gym timer from Bulldog is an AWESOME alternative with all the same features just in a smaller body (not that I am biased, but this is what I bought).