So you're in the market for a cheap – but importantly, good – power rack and you're not sure where to start. This is super common – particularly in the UK as we have a much smaller pool of options to buy from.
The CF375 is a pretty standard place for us all to start thinking about our home gym set up – it's readily available, cheap(ish) and looks like it means business.
But is it good enough? In short, yes, but no…
At a glance…
The Bodymax CF375 is made of 14 gauge / 2mm thick steel
This ultimately leads to it being too light and unstable for serious training needs
It is a good solution for those who won't lift heavy
A good quality squat rack is a reasonable compromise to get a better quality item for the same price
Weight capacity and other statistics
Dimensions

:

1300L x 1160W 2100H

Weight capacity

: 180kg (about 400lbs)

Product weight

: 46kg (delivered in multiple long packages)

Steele gauge

: 14 gauge/2mm thick

Price

: c.£350 (2021 update: Price at the moment is £350, this has been as low as £280 in the recent past albeit COVID-19 related demand and increases to raw material prices seem to have driven this up)
Bodymax CF375 assembly instructions
The power cage comes with clear, easy to follow assembly instructions which makes putting this Bodymax rack together quite easy. As ever when building a cage, I would suggest having someone to help. Packages come with all bars/bolts in separate packages which is great.
One caveat, is that cages will bend if you over tighten the bolts which happened to me. Definitely one to watch out for as it is disappointing when you look at it every day! The fact it can bend at all is NOT great though (we will get to that shortly…) and is due to the lightweight construction from 14 gauge steel.
The standard in 2021 (and really for the past few years) for home-gym power racks is 11 gauge steel which is much thicker at 3mm, and therefore heavier weight as a result. The CF375 falls short of this common specification by using thinner steel unfortunately.
Construction and spotters
Everything, once carefully assembled, was straight and true and felt broadly OK. At 46kg the cage is quite light weight and therefore it is quite easy to slide around on your gym floor. I'm not the only one with the issue – there are several other complaints that the cage will wobble if doing pullups/dips. This can be offset somewhat by placing Olympic weights on the back of the rack to hold it down.
Where the squat cage is let down is when working with moderate to heavy weights. Re-racking a relatively light warm-up is enough to have the cage moving around on the floor. This is not reassuring when training seriously!
The chinning bar set up is also not a great solution in my view as I prefer a full length pull-up bar to allow different grip widths. The angles on the handles are quite nice for proper wide pull-ups however. A nice 'meet in the middle' approach would be a full length ladder style bar which has the angled edges built in. We can see this on loads of competitors so I've no idea why this particular area has been over-engineered.
The spotters for the cage are hollow sabre safeties which push/pull out of the rack from the front. The squat rack needs enough room in front to load these in. I don't feel confident in the quality of the bars however as they are very lightweight, and a few users have reported these bending in use. The picture below shows the hollow spotter being bent after having 50kg dropped on them:
Personally I would prefer to pay the extra and get a heavier duty cage personally (and it is what I ultimately did with this). Another solution is to replace with solid bars, but this is obviously additional expense.
Price and competitors
The Bodymax CF375 power rack is one of the cheapest cages available at under £350, this is a significant uplift over the original £280 price when this review was initially performed. This reflects the 2021 COVID-19 induced demand spike for home gym equipment as well as the CV19 shortages in raw materials such as steel pushing manufacturing costs up therefore this is forgivable to an extent. In terms of alternatives there is the bigger brother in the same range being the CF475.
The Bodymax CF475 vs CF375 is a no brainer in my view, the CF475 offers a huge amount more for a little more cash. It is a step in the right direction with more robust safeties, but it still suffers from the same build issues with 14 gauge steel and tendency to slide a bit when re-racking squats.
I would not recommend a cheap, no-name cage. I bought one of these from eBay here in the UK and it was poor quality. Again bending issues with some poor quality materials, but also basic construction issues as the dip bars didn't even fit the power rack they came with!! The CF375 is a step up versus these products. The assembly instructions were good, however 🙂
STOP! Buy

this one

instead
If I was in the market for a CF375 or similar entry level power rack I would be looking instead at an entry level half rack from Bulldog. For a little more money your re getting a MUCH more robust build – 75mm x 50mm uprights made with 11 gauge (3mm thick) steel is a much more hardcore and industrial set up.
A few useful facts to help you make your mind up:
11 gauge / 3mm thick steel is virtually identical spec to the popular Rogue R3 line
J hooks come with UHMW plastic coating to protect your barbell knurl from getting worn away
Modular nature – buy the basics now and expand the rack over time (can go from 2 to 4, or even 6 post power rack by simply buying expansion kits) including spotter arms, dip attachments, bar storage and pull-up bars that can all be bought over time to spread the cost
UK engineered
Commercial grade
So check out the range of commercial spec squat stands available via Bulldog before you splash out on a cheap, entry level power rack.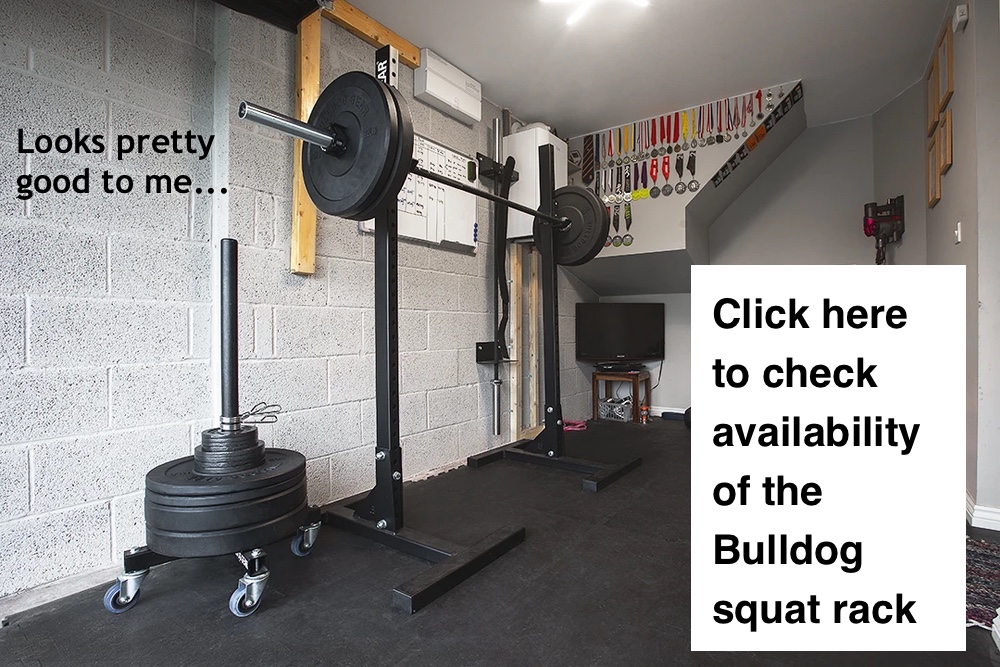 Should I buy the squat rack based on this review?
The Bodymax CF375 is an entry level rack in terms of material and price, and the spotters obviously suffer as a result. If lifting as a beginner and well within the 180kg weight limit, the CF375 would be useful to build strength and is better than nothing.
I think if you continue to lift to intermediate stages you would want to upgrade in the near future to get access to stronger safety bars and really a better overall product. Don't forget that the sabre poles also require a metre or so to insert in front of the cage – so not ideal if you are juggling a few things in your garage – for example I had it squeezed into a fraction of a standard UK single car garage and it was a pain clearing the front to move the safeties.
As we discuss above I think a higher spec squat rack set up (such as this BSSR1 Bulldog Series option sold by Bulldog) would be a much better way to spend your money if you are in this price bracket. Otherwise I fear you risk disappointment.
I score the rack a 3/10 due to the great entry level price and UK distribution network, but it is sorely let down by the 14 gauge steel construction. After all when we buy a cage we want strong metal!!