I've wanted an air bike since I first saw an old, basic AirDyne online. The thought of a full-body upgrade to my bicycle-on-a-turbo-trainer which I was using at the time was a REALLY appealing upgrade!
I spent a few years scowering the classified for a used one to no avail in my local market.
Then the Rogue Echo hit the scene. Moving the airbike game on in quality and price – I was sold. As soon as it was available in my territory I put my order in.
Having had my Echo fan bike for just over 3 years now I thought it was about time I put together a review of the Rogue Echo Bike…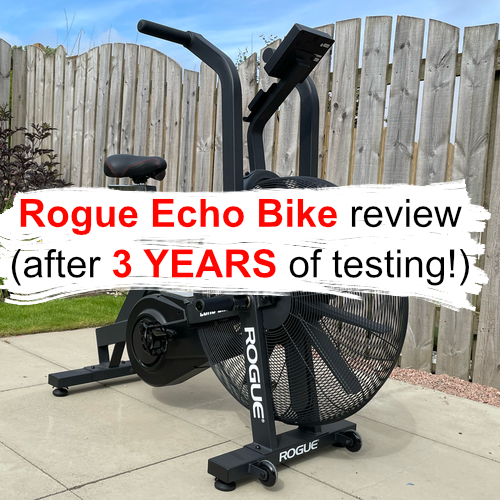 At a glance…
The Rogue Echo Bike is one of the best value pieces of cardio equipment around
In the USA it is an ABSOLUTE BARGAIN – check it out here
Butch appearance just oozes 'cool'
I would like to see the monitor upgraded in future models to add online / smart functionality as well as Bluetooth / ANT+ connectivity
Overall I think it's an excellent bike and for those in America it is the best bike available for the money
Short on time? Here are the pro's and cons!
I've gone to town on this review of the Echo… Possibly overkill with 5000+ words!
This is great for those of us who love gym equipment and want to take in all the details, but MOST people just want the key points…
So here are the pros and cons of the Rogue Echo Bike based 3+ years of using mine regularly:
| Pros | Cons |
| --- | --- |
| Awesome, full body cardio workout | Accessories cost extra |
| Minimal 'skill' needed to master it | Heart rate monitor support is limited |
| Chunky, modern design is overkill (but most welcome!) | Handle design could be changed to offer multiple grip styles |
| Belt driven drivetrain is much quieter than traditional chain bikes | Monitor is in line with competitors, but could be improved upon (e.g. smart connectivity, data logging, etc) |
| Cast iron warranty (I made a claim under it) | Price in other territories more challenged due to logistics costs |
| Price in USA offers excellent value | |
Pros and cons of the Rogue Echo bike
The areas I would like to see improved are common across ALMOST ALL similar air bikes – whoever managed to address these with any future upgrades or accessories will gain an edge in the market!
Overall the Rogue Echo fan bike is EXCELLENT and worth purchasing if you are in the market for an airbike.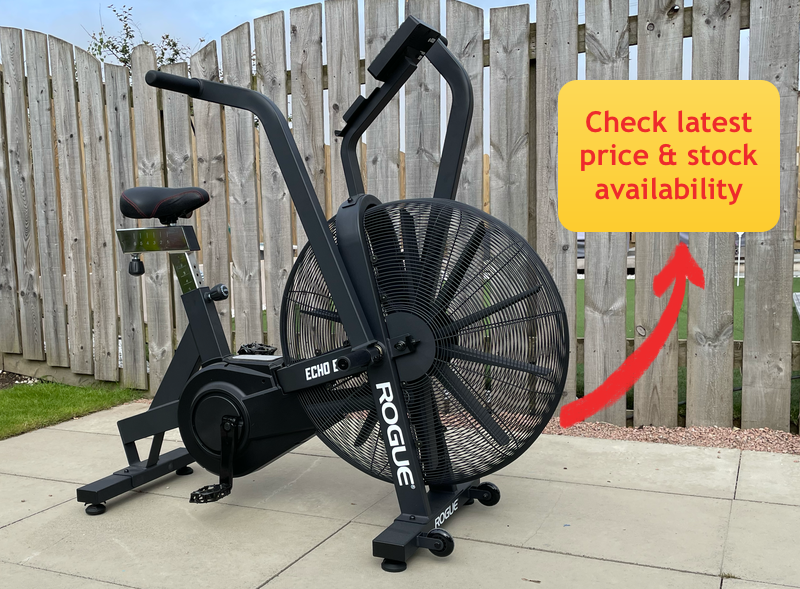 What is a fan bike anyway?
If you're new to fan bikes then you might be wondering what the heck you're looking at here… In summary a fan bike is:
A full body workout where you drive a large fan blade
Driven by your legs, similar to a bicycle or BikeERG, but with your arms cranking a couple of huge handles back and fourth as well
Minimal settings and no gears to worry about – resistance is governed by how hard you push the fan
Minimal technical skill required – no need to worry about form or technique, simply jump on and thrash away
Air bikes can be used for light intensity stead state (LISS) or high intensity interval training (HIIT). Their rise in popularity in recent years is largely down to CrossFit putting them in the limelight.
A good quality airbike is a credible alternative to a BikeERG or Concept2 rowing machine. Which of these is right for YOU will depend on your taste and goals – for me I liked the low impact nature of the fanbike on my joints to compliment my heavy weight lifting and found the fan AWESOME in a stuffy garage gym compared to BikeERG which I find a stuffier experience without a standalone fan.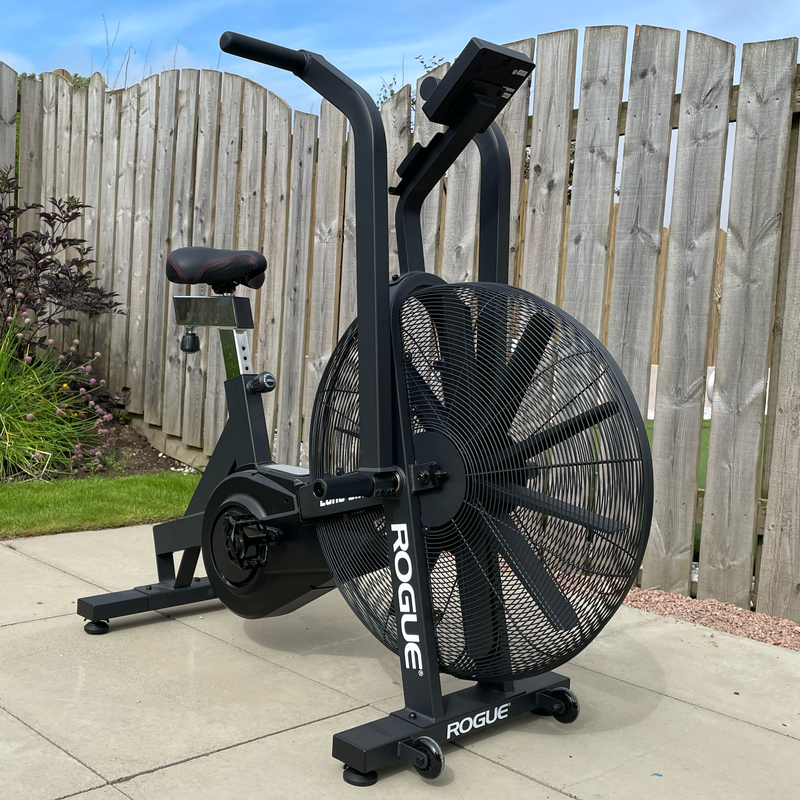 Plus it's the easiest to store, looks the best in my eyes and sits me high enough up that I can see the TV easily when doing LISS work!
Specification & Features: Overbuilt!
The word for the Echo bike is "overbuilt". The quality of construction is MILES above what is actually NEEDED in a piece of gym equipment..
It's easy to use this vague 'overbuilt' term to wave away any serious analysis of the fan bike, but for those of us that love gym equipment it's still great fun to delve in to the detail!
So here are a few highlights from the spec of the Rogue Echo Bike:
Belt driven – compared to traditional chain drive belts offer a much quieter, direct and smoother experience with virtually no maintenance
Butch design – the overall design LOOKS imposing. Blocky, box steel is used across the body and arms to make this bike look MEAN compared to more spindly and, arguably, old fashioned incumbents from Air Dyne and other manufacturers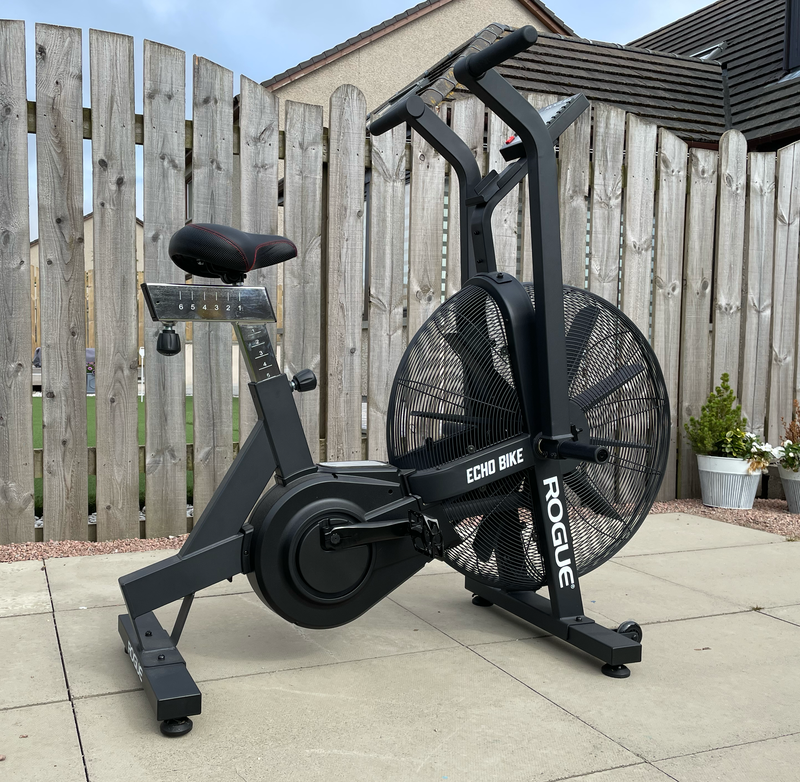 350lbs user weight limit – I've not been able to test this aspect but based on the weight of the machine and general build materials I have no reason to doubt it!
Black powder coat finish – the matte powder coat adds to the aesthetic of the bike matching other bits of Rogue equipment such as the ubiquitous R3 power rack
Heavy duty fan – with a similar bulky, welded steel construction to the rest of the bike the bespoke fan has 10x fins with an identical black powder coated finish. Some alternative bikes from Air Dyne and other brands have smaller fans or blades making the workout 'easier' at any given fan speed
Metal step plate – jumping on and off the bike is made easier with a bare metal plate on the top of the pedal box. This protects the powder coat from getting scuffed up as people step up on the bike and is a nice touch. It also doubles as a nice place to put bigger juice bottles when doing LISS if you don't spring for the drink holder!
Self levelling feet – relatively commonplace but worthy of mention are the 4x rubber feet that can be adjusted individually under the bike. They self level to a degree, and are made of a soft rubber compound making them almost stick to your floor! They offer excellent stability and stop the bike rocking around in heavy use.
Weight – the Echo bike is a seriously heavy thing! Weighing in at just under 130lbs (127lbs to be precise – that's 58kg!) This makes it super stable even in the most brutal of workouts and means heavier users can comfortably thrash out HIIT sessions without fear of toppling or crabbing across the gym
Warranty – Rogue include a 2 year warranty with their Echo Bike. I had a claim around 14 months after my initial purchase and Rogue honoured it so I can vouch for their service
Size – With a total length of around 59" and width of 30" and occupying a footprint of 45" x 24" the Rogue Echo, while bulky, doesn't need as much room as the likes of a rowing machine or treadmill, provided you have space to keep it out of the way as it doesn't fold up or hang on a wall!
Wheels – with 1" wheels included as standard the bike can be tipped up and rolled around the gym. The wheels are great for moving around a gym but a bit small if bumping up and down on to matting or down kerbs in the garden etc.
In American the Rogue Echo bike is SUPER competitively priced – it is a bit of a no-brainer to AT LEAST consider the Echo if you're in America and looking for an air bike!
Are the accessories worth it?
Despite being a simple piece of kit to use, the Echo has quite a few accessories available to customise your experience.
But are the Echo bike accessories actually worth it? Let's run through them all below…
Yes please: Echo Bike Turf Tire & Handle Kit
A newer accessory, the Turf Tire & Handle Kit solves one of the issues I have with the Rogue Echo which is manoeuvrability on uneven surfaces common in home (or non-commercial) environments – bumping up and over lifting platforms or in and out of a garage can be awkward with NO handle and the standard 1" caster wheels.
ALL of this changes with the Turf Tire kit.
For the money Rogue send you a complete front foot which includes 2x huge 9" diameter (and 2.75" wide!) wheels and a metal handle which bolts on to the seat post at the rear of the air bike.
For my use case I absolutely love this. If you move your bike around on even surfaces or inside only you might not see the need for the kit, but if you're thinking of moving the bike in and outside or over uneven ground this kit is absolutely brilliant.
Yes please: Echo Bike Phone Holder
For a few bucks you can be the proud owner of a plastic phone holder which screws in to the monitor arm. It is:
Cheap, functional
Dimensions of 6.125" x 3.5" with an open top fits most smart phones BUT not a tablet
Holds the phone below the eye line compared to the Assault Bike style shelf on the monitor itself
Overall I think this is a worthwhile purchase as it makes changing music easier and lets your phone act as as second screen with more sophisticated health apps open while you work out.
For example I regularly keep the Wahoo app open to monitor heart rate zones in more granularity than the OEM Rogue system.
No thanks: Echo Bike Wind Guard
A piece of plastic that bolts over the fan housing, the wind guard reduces the bluster of air naturally thrown off the fan blade and up from your legs / pedal box in to your face.
Given the simplicity I think this is overpriced. Owning bikes with and without a guard PERSONALLY I am indifferent to having one fitted. Some find the wind really annoying but I find it quite refreshing (and in fact is one of the reasons I moved to an air bike from a turbo trainer!) so your motives may vary…
It should be noted that the resistance is a LITTLE easier with a guard on, so if you're entering any challenges or competing you may want to add the wind guard for that reason alone.
For the rest of us? Maybe just zip tie some cardboard around the fan 🙂
Maybe: Heart Rate Montor
The Rogue Echo does not work with ANT+ or Bluetooth heart rate monitors. When I reached out to Rogue they recommend a Polar T31C or Polar H10 (as sold on their site) and I duly bought a T31C as the cheapest available option to test it out.
With hindsight this was a mistake.
Overall if buying a heart rate monitor again I would spring the extra for the H10 in the hope I could pair it to a more sophisticated app on my phone as well as the Echo's screen. I have found the P31C underwhelming and the heart rate functionality of the Rogue Echo itself basic.
In fact I regularly just use my Wahoo Tickr and have the app open on my phone as it allows me to track workouts and zones in a far more granular fashion than the Echo's monitor (including setting my own zones.)
Unfortunately when looking for heart rate monitors compatible with the Echo we are stuck with the recommended Polar units only. I have tried to connect a Wahoo Tickr and several other users have attempted various other similar products (including Apple Watches) to no avail.
This is unfortunate!
A heart rate monitor is far from essential and I have run MOST training cycles without one. More recently I have started to train with heart rate zones in mind as a proxy for RPE with some success so, for me, a heart rate monitor is an accessory I would buy again – BUT not the T31C which offers limited functionality.
For most users I would not bother with a HRM initially and instead order one at a later date if your training leads you in that direction.
Maybe: Echo Bike Bottle Cage
Similar to the kind found bicycles, you can add a bottle holder to the monitor arm To keep your drink within reach. The Rogue version is black powder coated metal.
Personally I think the price is a bit high for what you get particularly as generic bottle holders from Amazon or similar are far cheaper but admittedly with a less beefy finish.
For a few bucks it is a nice touch but not one I think is essential when, for LISS, you can park your bottle on the step plate and for HIIT… Well you won't be drinking while you're on the bike anyway 🙂
No thanks: SPD / Aftermarket Pedals
If you're familiar with cycling you will be familiar with cycling shoes, cleats and SPD pedals… If you're not then it probably seems pretty confusing!
Boiling it down to basics – SPD pedals click on to the sole of cycle shoes. The benefit is that power is more directly transferred from body to pedal as cycle shoes have very stiff (often plastic) soles ensuring there is no energy sapped away by your footwear either through flexing under load or unnecessary lateral movement as your shoe is essentially locked in place.
On the Rogue Echo airbike I think they are overkill. Road cycling is an endurance sport covering vast distances and times, on our Rogue Echo we are doing FAR shorter workouts.
Further if you're in to CrossFit or more general GPP days you likely want to move from the Echo seamlessly to other exercises – this is simply not feasible with clunky cycle shoes.
So while the option is there to attach your SPD pedals it is not something I do personally and not something I think most users would benefit from.
Assembling the airbike
Assembly is very quick as the bike is part assembled upon delivery. When you open the box up you'll find:
Main body including fan, pedal box etc. with a temporary, plastic foot installed to protect the powder coat from any delivery bumps!
2x feet to bolt to the frame
2x arms which slide on to the main body
2x spinning pegs which screw on to the arm mounts
2x pedals which bolt on to the cranks pre-installed on the pedal-box
Monitor arm to bolt to the top of the fan housing
Battery powered monitor which screws on to the arm
The box itself is pretty large, heavy and therefore tricky to manoeuvre around on your own. Inside the packaging is fantastic with the box jam packed with polystyrene with all the pieces taped in to the cavities to keep them safe in transit.
All the tools you need for building the Rogue Echo air bike are included, although I prefer to use my own.
I would suggest cutting the box open and assembling 'in place' rather than trying to empty the box. If you've got a spare pair of hands around then it's even easier but I've assembled every air bike I've reviewed myself with no real issues. Allow around 45 minutes to assemble.
An improvement Rogue could make to the packaging would be to move away from polystyrene to something more environmentally friendly if possible. I am not sure how feasible this would be however with the weight of the bike.
Build & Construction
Belt driven
The Rogue Echo bike uses a thick rubber belt to connect your pedal mechanism to the fan. In most other fanbikes this has been done with a metal chain similar to that on bicycles.
Does this matter? Yes. A lot. Here's why:
Quieter – where chains clank and rub against gears, a belt simply glides against the drivetrain wheels. The only noise you'll get is a more gentle 'whooshing' as the air is pushed around the room by the fan
Lower maintenance – chains need lubricated and adjusted as they naturally stretch. The thick rubber belts used in air bikes are VERY similar to fan belts in cars and therefore can be set up so that the tension lasts for decades without needing adjustment.
More direct connection – chains have some slack as the teeth of the cogs latch on the individual chain-links. Belts are under tension with NO teeth so any movement you put through the pedals or arms IMMEDIATELY transfers to the fan
There really is minimal downside to a belt drive over a chain. The belt itself is thick rubber similar to that found in car engine bays so will take all the abuse we throw at it over a lifetime.
The inertia-free drivetrain is fantastic – you feel so directly connected when starting up I really think belt drive is the best option especially for HIIT where shorter bursts of speed are used.
(Un)fortunately, as a result of the belt, the Rogue Echo is MUCH harder to 'ghost' than the likes of the Assault Bike or other chain drive equivalent. Ghosting is where you stop or slow down peddling but the bike sneaks a few extra calories / watts / yards / etc on to your performance metrics…
I will let you decide if stealing extra calories is a PRO or a CON to belt drive 🙂
Drivetrain squeak
Is it all good times with the Rogue Echo? Unfortunately not for me!
My first Echo fan bike developed an annoying screech coming from the drivetrain shortly after a year of use. The cause of this was (and remains) a mystery.
Working with Rogue we tried a bunch of fixes focused around adjusting the tension of the fan belt and lubricating the drivetrain. Unfortunately none of them cured the noise permanently.
After a few attempts to resolve this with the support team I flagged that I wasn't happy with the situation and asked if they could send a new pedal box which is where the noise was emanating from.
So what did Rogue do? They sent me a brand new, complete, Echo bike. Pretty cool.
All I had to then do was assemble the new bike and simply package the old one up in the box the new one arrived in. Once I was done they arranged for collection as well.
So I did have a squeak which I needed to share with you – BUT they stepped up to the plate and stood by their product, resolving the issue.
Frame durability
The framework is robust and feels like it will outlive me! Even after a few years of use there are hardly any signs wear and tear on the powder coat – and that's in a well used garage with a family bumping their own equipment in and out of the space!
My Echo bike has picked up only one noticeable scratch that I can see. Frustratingly I did this one myself scraping it with a bicycle as I was rearranging my garage, but for most people who are more careful than me (!) they have nothing to worry about.
Not linked to performance, but the Rogue logo is etched on to the bike either as part of the powder coat or by being painted on after. This looks pretty cool compared to a sticker as is standard practice on competitor bikes.
Wheels & manoeuvrability
As standard the Rogue Echo bike comes with 1" caster wheels. These are made of tough rubber and are fine for gliding the bike around a well floored gym.
Rogue is not alone in using this 1" wheel design however in my opinion chunkier wheels would enhance overall manoeuvrability for those of us who have to either move the bike over longer distances, move it outside or bump it up and down a lifting platform. The 1" wheel is not built for these situations.
Another minor bugbear with the Echo bike which is the lack of a proper handle to move the bike with instead you grab the lower section of the frame.
Having used airbikes with dedicated handles on the rear tube they are MUCH more convenient to move around both for grabbing (a dedicated handle vs the metal box section offered on the Rogue) and general comfort when moving (the handle is further up the bike so easier on your body pre/post a session).
Luckily there is an accessory ("Echo Bike Turf Tire and Handle Kit") which adds 9" wheels to the bike as well as nice dedicated handle that attaches nice and high on the rear of the bike.
This is much more versatile but obviously adds to the cost of the bike. This is already available in America with other territories to follow. I personally think this is worth the money if you move your bike around on uneven surfaces.
The footprint of the Rogue is slightly narrower than some of the competition which makes threading the Echo down a garden path as you move it out to a patio far easier as the wheelbase fits nicely on a standard 3" x 2" paving slab.
Obviously this narrower build make it easier to creep past any other obstacles in your way – I need to wheel the bike past my bins for example (glamorous!) and the narrower feet make it a doddle.
What's more, there is no detectible negative to this narrower stance in terms of stability in use.
Key contact points
Arm design
Being a key part of the design, the arms of the Rogue Echo really contribute to the butch appearance. The large box section construction combined with the black powder coat really have PRESENCE on the Echo and look excellent.
While the arms are functional PERSONALLY I think there is opportunity to improve on the design in a few ways:
Handles are too thick – the grip area on the bar is quite thick and a thinner bar would feel much better in use to me personally. I find myself going thumbs OVER not UNDER on the Echo because of the thickness.
More grip options – the design has a padded handle then a 90 degree join to the metal upright of the arm. Having a padded bend or even additional grip options (like bulldog horns) would give us more hand placement options and massively enhance comfort on longer rides in particular. I often find myself pushing on the metal join as it allows me to have my hands in a more natural 45 degree position
Narrower – following on from above if the handles were extended this would reduce effective width between the grips by a few inches which would make the bike more comfortable for more slender athletes with narrower shoulders. As noted I find myself erring towards the inside of the grips so by extending the padding inwards or redesigning the handle all together it could open up the range of comfortable widths quite a bit.
The arms clip on the body of the fan bike at the base and are tightened on to this central spindle which facilitates the rocking back and fourth of the arms when in use.
This central spindle design is common to all Airdyne style bikes and has one major con which is that, with the torque going through the connection, it can work loose over time.
Rogue do offer a detailed instruction on how to retighten the bolts if this does occur. My handles have worked themselves a little looser than I would like, but it hasn't bothered me as is imperceptible in regular use once the bike is spun up to speed.
If there was something seriously wrong I would expect it to be covered under the warranty so I sleep easy knowing this is not a serious problem.
Common to ALL fan bikes I've come across is the lack of reach adjustment as the arms pivot around an up adjustable central connection.
If there was SOME way to allow the throw of the arm to be shortened this would be a GAME CHANGER and would mean the Rogue Echo bike could be used by people in all shapes and sizes!
So not a criticism of the Rogue per se, but a huge opportunity that they could exploit in any subsequent redesigns.
Saddle
The Rogue Echo shares a saddle with many of the competitors including those from Bulldog and Schwinn. For the price being charged I think they could have designed (or picked) a DIFFERENT seat at least out of principle, even if functionally the same.
Even a stitched logo would be a nice differentiator and would exploit their main advantage over alternative fan bikes… The Rogue branding!
All of that said the saddle is FUNCTIONAL, if not exceptional. The seat is seriously big with a ton of padding – if you're used to bicycles this thing will look alien to you when you see the size of it!
The way our bodies move on a fan bike is a little different to a traditional bike or BikeERG so the huge seat does have some merit. This bigger design is more comfortable on the Echo as we're more upright and using full body effort compared to a bicycles focus on an aerodynamic posture with a largely stationary upper body.
You can mount other saddle styles if you feel like it – it's not something I have felt compelled to try.
I've found the seat comfortable for HIIT sessions where the focus is on survival or energy output. Longer LISS sessions are also comfortable when your seat is properly set up so I recommend spending the time testing out how you like the seat (including the tilt!)
The adjustments available are:
Height – Rogue advertise the Echo fan bike as having 8 height increments (although mine has 10!) On my Echo bike the top of the seat goes from 33.5" to just over 42" when measured from the floor.
Reach – Rogue advertise the bike as having 5 front/back increments (although, again to be difficult, mine has 6!) This adjusts the reach of the bike by 6" – 8" depending on how you position yourself on the seat.
Tilt – I found a really simple tweak to improve comfort was to tilt the seat very subtly downwards at the front. Simply loosen the bolt under the saddle and the tilt can be adjusted quickly and easily.
Adjusting the saddle is a breeze with height and reach achieved via two separate pop-pin adjusters. These are chunky knobs that unscrew a turn or two then simply pull away from the frame and then you can slide the seat in to the desired position.
Let the adjuster go and it will secure the seat via a pin through the frame and seat tube. Simply tighten the knob as you would a normal screw on the threaded pin and it locks itself in to place with NO movement – even under heavy use.
Overall the adjustability of the seat is sufficient to get MOST people >5'2" tall comfortable with the main issue being arm length / reach which is a little LESS adjustable than height.
Despite not being blown away but the generic saddle included with the Rogue Echo bike I can say it's functional and absolutely FINE… It would just have been nice to have a LITTLE differentiation from competitors instead of a straight copycat!
Pedals
The Rogue Echo ships with a pair of pedals – this might seem like an obvious statement, but as a keen(ish) cyclist I am used to bicycles shipping with NO pedals 🙂
The first Rogue Echo I bought came with PLASTIC pedals, but the second with METAL ones. Functionally both were identical being of the same design, but the metal set feel MUCH more premium than the original plastic.
This was a great tweak to the spec of the bike Rogue made early in the lifecycle. If buying now you will get the improved metal pedals.
Having used SPDs extensively when road cycling I am very familiar with them and have the pedals and shoes available, but I find the standard metal pedals suits the air bike more as it allows me to jump from the bike straight to other exercises without changing my footwear.
There are no obvious improvements I can think of to the pedals so I believe Rogue have this area dialled in.
Pegs
Surprisingly heavy duty, the Echo ships with a pair of metal pegs that bolt in to the arm mechanism with a mega-thick bolt going through the peg and in to the root of the arm mechanism.
As the drivetrain has NO ability to freewheel anytime you want to take your feet off the pedals while the bike is still moving you will need to rest on the pegs!
Made from metal they feel premium with a nice, bold knurling pattern carved in to them.
One curiosity is that they spin – initially I found this strange as you couldn't put a ton of weight on them or else you'd risk spinning off so you couldn't use them for mounting / dismounting the bike, but it's actually quite a neat solution when actually USING the bike.
What does it solve? Well by being attached to the arm mechanism, the pegs on the Echo bike actually rotate forwards and backwards with the arms themselves.
The peg being able to rotate means you can keep your foot on them while working arms only (for example) and the back-and-fourth motion of the arm doesn't then get slowed down by your foot, and the knurl doesn't rub away on your feet. A win-win!
It would be nice to have an option to lock the pegs in place for those who prefer this or don't use an 'arms only' style of workout, but either way the build quality is fantastic and the knurled finish a great touch.
Monitor & Interface
Rogue include a 6.375" square monitor with a few big chunky buttons around the edges to set it up. It's battery powered and takes regular AA's. The monitor has a pretty simple LCD display so they should last for ages (I've never changed a set.)
The buttons available are:
Custom program buttons (on the left) – use the up, down and enter buttons to set up your workouts, with start and stop buttons to… Start and stop your workouts!
3x Interval buttons (down the right hand side) – includes dedicated buttons for Tabata style 20 on / 10 off and 10 on / 20 off training as well as a 'custom' button allowing you to set the number and duration of your intervals
4x 'target' buttons on the lower right hand side – these let you set up workouts based on time, distance, calories burned or heart rate
I am not sure why the Tabata stye, 10/20 and 20/10 intervals get dedicated buttons yet there is no way to save custom interval setups.
In use you can see the below metrics on the screen:
Interval count and timer
Speed
RPM
Wattage
Distance covered
Time elapsed
Calories burned
Heart rate
There is no integrated shelf to hold a phone or tablet on the monitor itself as you may have used on the Assault Bike. A separate phone holder is available but it sits below your eye line. The upshot is that the monitor is visible at all times whereas on other bikes (such as the Assault Bike) putting a phone or tablet on the shelf will obscure most of the screen.
I like the square design of the monitor and some of the display options are quite aesthetic – I particularly like the rev counter style graphic for the wattage output.
An easy improvement would be to display (or give the option to display) time remaining & time elapsed as is done on other, similar bikes. In the heat of a workout this is a useful additional datapoint you don't have to work out in your head!
Overall the monitor is functional (and in line with the competition), but personally I think the easiest way for Rogue to improve and differentiate the Echo bike would be through improving the monitor.
Something that bugs me a little is the beeping – the Echo bike beeps each second as it counts down rest periods when interval training. A setting menu or option to turn this OFF would be fantastic – a beep (or three) ahead of the next work period is awesome, but 60 beeps to count out a minute of rest is less so.
Particularly as I often use my bike in the garden and my neighbours must wonder what on earth is going on!
A backlight would also be an easy win for Rogue. 99% of the time there are no issues as the LCD screen is really high contrast anyway but I occasionally find glare in direct sunlight can make the readout harder to see. It's not that big a deal, but hey – if we're making changes we should do them all 🙂
I would also advise Rogue to widen the heart rate monitor compatibility. At the moment they list 2x Polar heart rate monitors as compatible with details on what exactly is supported is patchy.
I personally would LOVE to hook up my Wahoo Tickr and I am sure plenty of people with Garmin or Apple Watches would love to hook them up too. Instead I had to buy a Polar T31C chest strap exclusively for using on airbikes.
With ANT+ and Bluetooth compatibility for accessories like heart rate monitors the Rogue Echo would be even MORE formidable.
A clean-sheet re-think of the monitor to include these tweaks as well as some kind of online connectivity would be FANTASTIC. It would be like the Concept2 monitor but EVEN better. I'm envisioning a WiFi enabled monitor automatically syncing my workouts to the cloud somewhere and, if I consent, being updated in worldwide leaderboards.
Pricing
Rogue Echo pricing in the USA
If you're in America then this is virtually a NO BRAINER, if you are ordering a fan bike then you absolutely MUST consider the Rogue Echo which is VERY competitively priced.
At the moment the RRP is $795 with free shipping – for the money I think this is a GREAT deal.
There are occasional sales on the Echo usually offering $50 – $100 off. Over the past couple of years sales have been less frequent as demand MASSIVELY outstrips supply in the pandemic era.
If you're patent and want to hold out for a Black Friday or other sale then you might be rewarded, but no promises.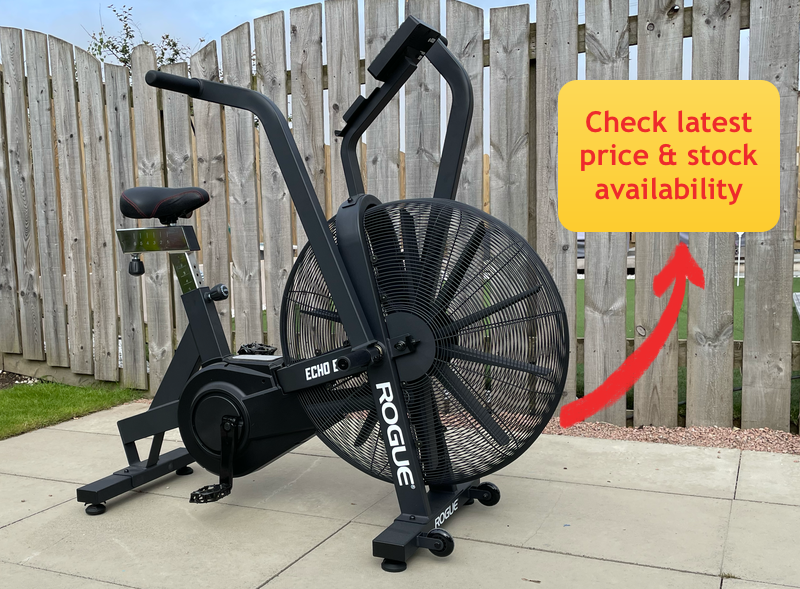 As a word of warning Rogue did NOT hold a Black Friday sale in 2020 so if you wait months for a few bucks off you might find yourself frustrated.
Rogue Echo pricing in other territories
With the additional logistics getting Rogue equipment to other regions (Australia, UK and Canada) the pricing can be a little higher unfortunately.
In these areas there is a little more competition at the same price point, but the Echo is still a rock solid option and supports a brand doing great things for the fitness industry.
Conclusion
Well it's effective, it's awesome, it's good value… The Rogue Echo is amongst the BEST fan bikes in the world right now and hopefully my review has helped you decide if it's right for YOU.
There are a few areas Rogue could improve on the Echo to lift it above ALL competitors – mainly by enhancing the monitor and improving third party peripheral support (ANT+ or Bluetooth heart rate monitors please!) but in its current form it remains an absolutely fantastic piece of gym equipment and one of the best air bikes available.