If you're building a gym from scratch or simply looking to add some new plates to your garage gym, you have probably asked yourself (and maybe others!) whether bumper plates are worth it?
Having trained at home for more than a decade and, more recently, having tried a ton of different training styles utilising both steel and rubber plates I think I am in a good place to share my thoughts on whether bumper plates are worth the money.
At a glance…
Bumper plates are worth it if you can afford them as they are more versatile
They are quieter which can be important in a home gym
When buying look for a good brand with excellent build quality
Where the metal insert attaches to the rubber is the weakest point on the plate
I bought these Bulldog Gear Hybrid 2.0 bumper plates
Why are bumpers worth it?
Bumper plates are worth the money for trainees who value any of the following 5 things when working out:
Quieter lifting
Not damaging or being as hard on their floor
Olympic lifts
CrossFit WODs
Having the best kit
In short, bumper plates are worth it for a home gym if you can afford them as they can be used for everything traditional iron plates can be – plus a few other things to boot.
One of the best things about using bumper plates in a home gym? They are quieter – this is super important to some of us!
What makes bumper plates so special?
Bumper plates differ to traditional iron weights in a couple of ways:
They are made of rubber
There are a few different styles of bumper plates ranging from calibrated and certified competition spec plates through to much less refined (but much cheaper) virgin rubber plates.
The ONE thing they all have in common is a predominantly rubber construction with a metal sleeve for the Olympic barbell to pass through.
Bumper plates are quieter than steel equivalents. For example I've noticed a difference as follows:
Quieter when deadlifting or working from the floor – deadlifts in particular can cause some animosity in my household if I'm lifting with steel plates! The bangs – even on a proper lifting platform – are still noisy. Using bumper plates mitigated this somewhat (although does not eliminate completely)
Much quieter against other plates – bumper plates are less noisy in general use in the gym as well as when deadlifting – for example 'plate to plate' where iron can clang is virtually eliminated as rubber on rubber makes little to no noise.
They are designed to withstand being dropped
When doing Olympic lifting or CrossFit dropping a loaded barbell is a frequent event. Even if you set out to lower it gently, occasionally misses happen!
In these situations bumpers are invaluable as their rubber construction has been designed SPECIFICALLY to withstand being dropped.
So if you're looking to get the best times on your CrossFit WODs or hit PRs on the Olympic lifts then a set of weight plates you can safely drop are worth the money.
They look a bit nicer (to some people)
I'll be honest – I quite like the look of a calibrated steel plate. I think they look awesome. BUT, I am in a minority – most people prefer the chunkier and arguably more impressive aesthetics of a set of bumper plates.
Maybe they like that bumper plates make them look stronger by taking up a bit more space on your barbell sleeves…
There's more bar whip with bumper plates
Bumper plates usually take up a little more space on your barbell sleeves than iron so the weight distribution of a loaded bar is further out from you, the lifter. This extra distance means the barbell is MORE likely to flex under load as the weight is further out from the pivot point (your hands, back, traps, etc depending on what lift we're talking about).
MORE whip is typically associated with an easier lift, but it's really personal preference. I quite like a bit of whip and do miss it a little when lifting with calibrated steel plates which are much, much thinner than bumper plates.
How much do bumpers cost?
As you can probably tell by now, not all bumpers are created equal and as a result prices vary.
Top end competition spec bumper plates cost around £7/kg (based on Bulldog Gear Competition Bumper Plates 140kg set at the time of writing).
'Goldielocks' spec plates cost around £3.50/kg (based on Bulldog Gear Hybrid Bumper Plates 2.0 150kg set at the time of writing).
The "Goldielocks" spec for bumper plates is a mid-range product which has a solid brand backing their warranty and a more robust construction than the most entry level plates, particularly around the metal insert which can be an area of weakness in entry level products.
Cheaper, generic plates are out there with a modest saving over the above, but build quality and warranty must be researched and checked with the savings considered in that context.
Downsides to cheap bumper plates
Cheap bumper plates can be a minefield – no doubt there are diamonds in the rough out there but PLEASE do your research if going down this route!
The bushing that runs through the centre of a bumper plate is the single weakest point – it is really common for poorly made bumper plates to separate here with the metal sleeve coming away from the rubber bumper of the plate.
This effectively renders the bumper plate useless.
In my opinion it make more sense to spend a SMALL amount extra on a reputable branded product with associated warranty by opting for a mid-range set of weight plates.
Particularly as, here in the UK at least, the second hand value of weight plates and bumpers is fairly strong so you WILL recover some of your money should you choose to sell up.
Are competition bumper plates worth it?
At the other end of the spectrum you can buy competition spec bumper plates or training plates which are calibrated within a few grams of their stated weight and certified by the International Weightlifting Federation (IWF).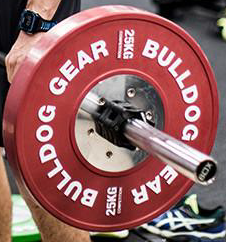 This is AWESOME if you compete in said weightlifting federation competitions, but if you don't then there is little point spending top money on these plates – unless you simply have the budget and want to.
ONE group who do benefit from the more premium competition and training bumper plates are VERY strong lifters who are running out of space on their barbell sleeve for MORE weight. You can load up to around 290kg of competition plates on a barbell compared to around 250kg of mid-range hybrid bumpers.
I'm convinced!: What is the best 100kg bumper plate set here in the UK?
I've learnt a lesson when buying weight plates: I always make sure I buy from a brand with staying power.
Why is that important? Because if you want to add weights weeks, months or years down the line an established brand is more likely to be able to sell you matching plates.
With a previous set of weight plates I spent weeks searching for them to match my existing unbranded set only to get them delivered and find the colour was different and the design was subtly different. This sent my OCD in to overdrive and ultimately I changed out the whole set!
Considering this, I bought a 100kg Bulldog Gear Hybrid 2.0 weight set. To summarise the pros and cons with this set:
Pros:
Mid range plate with robust construction
Unique design with chamfered edges and knurled grip
Established brand with warranty
Price was competitive, undercutting my second choice of plate set
Considerations:
The 150kg is, pound for pound, a little better value
Top end training and competition plates are appreciably thinner
You might prefer the aesthetics of the coloured Hybrid 2.0's
Conclusion
Bumper plates are worth it if you have the budget to afford them. In almost all circumstances bumper plates are more versatile than steel weights, with the exception being for extremely strong lifters moving more than 290kg.
The main pro's to bumper plates are that they are far quieter to lift with and are kinder to your gym or garage floor than metal plates. That said you can still live a happy life with steel plates, it will just be a noisier process!
I've got a 100kg weight set of Bulldog Gear Hybrid 2.0 bumper plates and think they are the best value bumpers available here in the UK – you can check them out here if you're interested.