The Bulldog Gear Hex Dumbbells 1.0 are one of the best value dumbbell ranges available in the UK at the moment. They combine high quality build techniques (more on this later) with competitive pricing. What more could we ask for?!
In the below review I am going to run through the key things to consider before you buy – including delivery, value for money and construction quality. Buying dumbbells is usually a significant purchase – so lets make sure the Bulldog 1.0 ones are right for us before we do!
At a glance…
Possibly the best budget hex dumbbells available in the UK?
Friction welding makes these super durable and able to withstand being dropped
Design includes a tapered chrome handle with 3x rings of knurl for grip
Best bits:
Friction welded hex heads – most durable and ideal for accidental dropping or bashing about in a home gym
Cheap – Price per pair is reasonable and you can buy pairs individually so you only pay for what you need
Postage and packaging was excellent (and super fast!)
Considerations:
Tapered handle could be thicker on the lighter pairs
No stand included – consider how you will store them
1 year warranty could be longer
Why you can trust me…
Peckmeout is a labour of love started way back in 2013 and built around a hobby I hold dear – home fitness and gyms! In the intervening years I've worked out in my home gym almost exclusively – so I have spent in to the THOUSANDS of hours with some of this equipment.
To provide a useful review I have integrated the hex dumbbells in to my workouts for a number of weeks to ensure I've got a good grasp of the pros and cons of using these over the competition (for example the HyGYM hex dumbbells I've reviewed elsewhere or the likes of the adjustable offerings from Ironmaster.)
While this might seem like overkill I hope it's useful for you guys out there, and it's sure been fun 🙂
Are the Bulldog Gear Hex Dumbbells 1.0 worth it?
Yes the Bulldog 1.0 hex dumbbells are an excellent addition to any budget concious home gym. They offer excellent value for money with their high quality friction welded construction at a reasonable price point.
This is especially true if you are looking to build a custom set of dumbbells – most alternatives tend to come in predicated sets of weights which don't work for all of us.
Bulldog 1.0 Dumbbell Specification
Weight range: 2.5kg – 50kg pairs (available in 2.5kg increments)
Handle design: Tapered chrome handle with 3x knurl rings
Construction: Heads friction welded to handle
Warranty: 1 year
What is the buying experience like?
Ordering was an easy process with the full range of weights listed individually on the website. What I like about this is that it makes 'topping up' your set easy if you want an extra pair (or two…!) months (or years) in the future.
Hex vs adjustable?
I won't dwell on this for too long, but one of the considerations before buying a set of dumbbells is whether fixed or adjustable are more suitable for your situation.
This is a personal decision and I have been an advocate for both in the past. I previously thought adjustable dumbbells were the best solution for most home gyms, but since buying and testing various hex dumbbells I think the 'grab and go' nature of them will suit a lot of people, particularly those looking to get as many sets in their training as possible as there is NO time lost to adjusting the weight.
Overall I think fixed dumbbells tend to suit bodybuilding and CrossFit training more for this ability to quickly drop or super set at different weights without rest.
Price
The Bulldog pricing is very reasonable. A typical set of hex dumbbells could look like this:
5kg pair
7.5kg pair
10kg pair
15kg pair
20kg pair
25kg pair
Ordering this through Bulldog worked out around £100 cheaper than the same set from HyGYM (reviewed here) – BUT HyGYM do include a basic but functional A-frame stand in their price. The price differential can change depending where you live – for me Bulldog had higher shipping costs but still remained cheaper overall for me (albeit without the stand).
If getting the most weight for your money is your priority the Bulldog Gear 1.0 hex dumbbells are aimed at YOU.
Delivery & unboxing
Postage and packaging costs are always high for weight equipment – but I feel like I got my moneys worth here as the dumbbells arrived with each one in a separate bag within strengthened cardboard boxes. The boxes were stacked together on a pallet with plastic wrap holding the whole package together. There was NO damage to the packaging at all.
Delivery hack: just order more (but maybe don't tell your significant other!) I combined a few purchases and therefore only had to pay one delivery fee. All the products were all shipped together.
Bulldog work with local logistics companies to actually get the product to you so your experience may vary, but for me the delivery driver phoned before arriving and came with a pallet truck and tail lift so the whole pallet was smoothly rolled up to my front door. Perfect!
Unusually for gym equipment 'in these strange times' delivery was extremely quick and my order arrived within a few working days.
Build and design: Reviewed & compared
This is what you have come here for – the nitty gritty! This is my review of the dumbbells – warts and all:
Tapered handles with chrome plating
The Hex 1.0's follow the industry standard design of having a tapered handle that follows the curve of the hand. Lighter weights have thinner handles and vice versa. Each handle has three strips of knurling running around it.
PERSONALLY I would have designed a consistent diameter handle across the weight spectrum with fully knurled straight handles. A straight handle is similar to that found in PowerBlock or Ironmaster adjustable dumbbells. The taper is absolutely fine and functional so it is a preference thing.
The knurl on the handles is good. It's very grippy and feels more lively in the hand than the similarly designed HyGYM dumbbells (although those are still great to use.) Similar to the HyGYM I think both designs could benefit from having the knurling extended across the whole handle.
Hex heads are friction welded on
Bulldog are quick to advertise that their dumbbells are friction welded – not all competitors specify this, but it is important to consider.
Friction welding is a process that uses friction (obviously…) to heat two different material types ultimately binding them together. It's a super-strong way of bonding rubber and metal, basically.
This is important for rubber headed hex dumbbells in particular as repeated dropping and general use / abuse in a gym can knock the heads loose or even off all together. Friction welding prevents – or at least mitigates – this.
While I don't throw my weights around I don't molly coddle them either so having the most robust construction is important to me.
Rubber heads are high quality
The hex head itself is nicely finished in virgin rubber. They have withstood all the abuse I have been able to throw at it. When initially unboxed there was a very slight slickness to the finish due to the oils that are applied during manufacture to prevent the rubber cracking. This wore off after a couple hours of use.
Being virgin rubber there is only a minor odour even when brand new.
Design of the Bulldog 1.0 hex heads themselves is as per industry standard with the weight in kilograms and Bulldog Gear logo embossed on them. This is absolutely fine – BUT if Bulldog wanted to differentiate themselves from other entry level competitors they could mix this up in future.
Perhaps some white detailing to make the weight designation easier to spot from a distance? Or pop the weight on the ends of the hex heads as well as the sides?
As covered above the rubber hex heads are friction welded on to the handles and they feel absolutely SOLID in use. No complaints here at all.
1 year warranty
Bulldog offer a 1 year warranty on all dumbbell sets (albeit it doesn't appear anywhere on their website!)For comparison HyGYM – an entry level competitor – advertise a 2 year warranty period with their dumbbells.
While I believe Bulldog Gear would do the right thing by their customer base it would be good to have a longer warranty for peace of mind and I think the durations would be clearly disclosed on the sales page.
To be clear I have had absolutely no issues with the product and no need to contact customer services, I just think a clear warranty would provide even MORE reason for us UK customers to choose these dumbbells over any others!
Other customer reviews
There are a few reviews (all 4 or 5 starts) posted directly on the Bulldog site. While none of them are particularly insightful it is good to see that people other than me have had positive experiences with these products.
"Adam C" offers the most detail with the following:
"Great quality weights and fast delivery"

Verified purchaser "Adam C", sourced from the Bulldog website
Alternatives to the Bulldog Gear 1.0 Dumbbells
I think the Bulldog Gear Hex Dumbbells 1.0 with friction welded handles are cb for those in the UK looking to build a custom dumbbell set.
That said there are a couple of alternatives that are worth considering:
Bulldog Gear 1.0 vs HyGYM Hex Dumbbells
HyGYM sell a set of 6x dumbbell pairs with an A-frame stand. Design wise the two are very similar. Like for like HyGYM is a bit more expensive than Bulldog 1.0 but does come with that stand.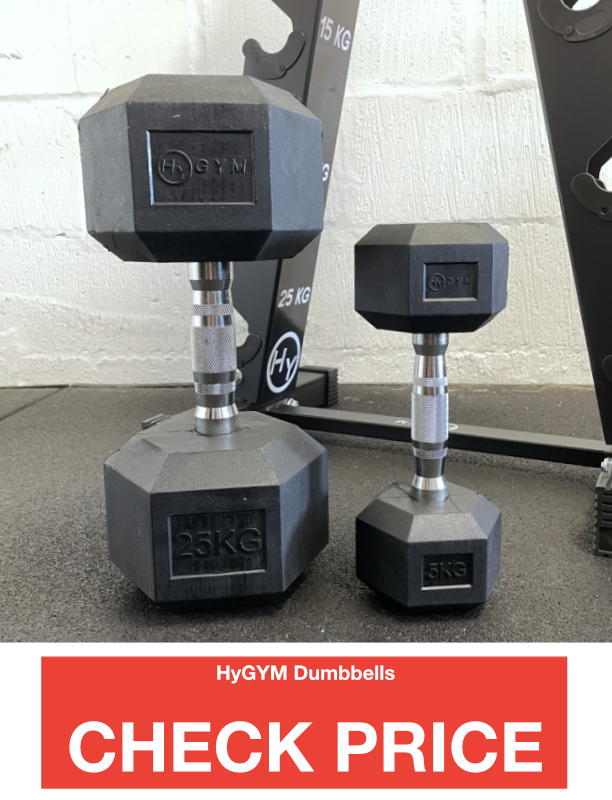 Bulldog Gear 1.0 vs Bulldog Gear 2.0 Dumbbells
The Bulldog Gear 2.0 dumbbells are nicer to use than the 1.0 with a unique design on the hex head, smaller overall size and thicker handle with full rubber coating. When compared side by side with the 1.0 they do feel more premium.
These improvements are notable and great, BUT they don't make the dumbbell much more usable so they are more of a NICE TO HAVE rather than ESSENTIAL.
The trade off is they cost 25% – 30% more so these are suitable for those with a bigger budget.
Conclusion
Overall I think the Bulldog Gear Hex Dumbbells 1.0 with friction welded handles are an excellent entry level dumbbell for UK home and commercial gyms. The build quality is excellent and they are proving to be super durable.
Price wise these undercut other entry level options and therefore this makes them among the best value dumbbells in the UK – as long as you are OK buying a stand separately!
With that said, if you have a larger budget available the 2.0 dumbbell range by Bulldog is a worthy upgrade.
Best bits:
Friction welded hex heads – most durable and ideal for accidental dropping or bashing about in a home gym
Cheap – Price per pair is reasonable and you can buy pairs individually so you only pay for what you need
Postage and packaging was excellent (and super fast!)
Considerations:
Tapered handle could be thicker on the lighter pairs
No stand included – consider how you will store them
1 year warranty could be longer